Shakespeare's Women
Lights of London Productions
Barons Court Theatre
(2009)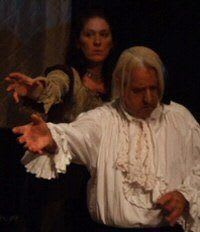 Watching this play was a bittersweet experience: bitter because it was the final performance of a project that briefly toured between October and November at The Rose Bankside and The Old Blue Last, before settling in for a final outing at the Barons Court Theatre. Hence, a retrospective account (rather than a review) of an experience that was sweet in many ways.
Directed by Elizabeth Elstub for Lights of London Productions (a company based in Shoreditch, Shakespeare's old stamping ground), the play featured the ageing playwright returning to his birthplace (Stratford) to die, comforted by wife Anne (Jeryl Burgess), daughters Susannah (Darrie Gardner) and Judith (Jennie Fox), and young servant Bessie (Laura Darrall).
As Will (Alexander Gordon Wood) passes in and out of dreams and consciousness, he is haunted by the words of some of his most famous female creations (and a few lesser known ones, such as Mistresses Ford and Page from The Merry Wives of Windsor) who enter his mind and are personified in quick change sequences between 'then' and real time by the women around him.
In general, the lines chosen showed a piquant affinity with the big life questions being considered here - those human themes that bear so heavily on us and that keep Shakespeare contemporary: love, loss, the body, war, grief, motherhood, womanhood, the often destructive nature of men. (Laura Darrell's 'these men, these men' uttered with real depth and conviction).
This ensemble of actors proved to be a tight and successful unit. The highlight, for me, a pairing of Ophelia's grief-induced dispersal of flowers in tandem with Juliet's tragic laments over her Romeo, with Jennie Fox and Laura Darrall respectively quite spellbinding, here.
The ending was heralded by Gordon Wood's transition from the clown, bearing the deadly worm of Nilus to Cleopatra and her women, finally morphing into Prospero, perpetuating the misplaced idea that The Tempest was the playwright's final work, rather than The Two Noble Kinsmen, aided and abetted by young 'apprentice', John Fletcher. And yet, there is no denying that such an ending, and the reminder that our lives are little and end in sleep, seems a fitting end to proceedings.
The work is a fine example of how Shakespeare's words can be manipulated into new incarnations yet still 'work' when taken out of context, although a working knowledge of the lives of Titania, Desdemona, Portia et al might add to the enjoyment.
Had I seen the play earlier, I would definitely have recommended it; as it is, I feel a transfer to a small West End venue, such as the Jerwood, would work really well. Meanwhile, it's lovely to think of plays being performed in small, intimate underground venues such as Barons Court - a delightful find with 60 seats on three sides in a cellar below the Curtains Up pub (Comeragh Road W14, a short walk from the tube) where actors and audience can be in close proximity and a warming winter drink is never far away.
Reviewer: Anita-Marguerite Butler