Shangri-La
Amy Ng
Matthew Schmolle in association with the Finborough Theatre and Yellow Earth Theatre
Finborough Theatre
–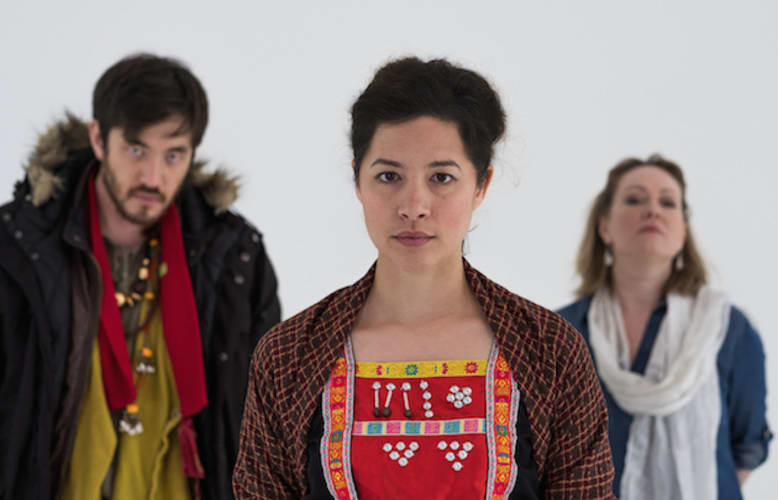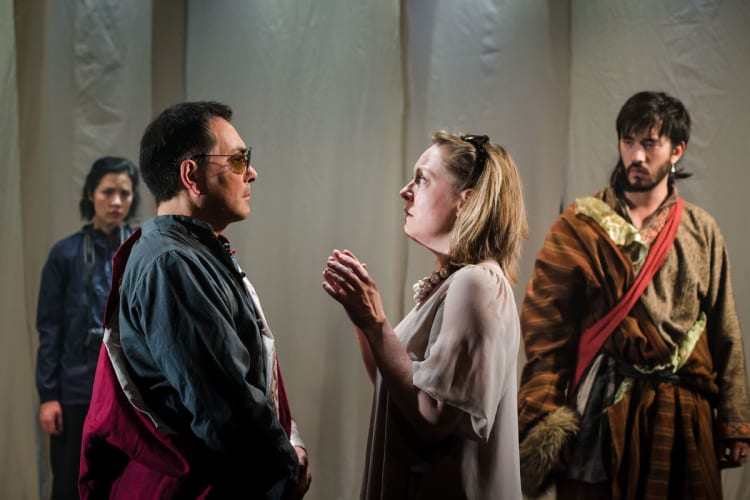 Forget James Hilton's mystical mythical valley, there is a real Shangri-La now. In 2001, the Chinese government renamed Zhongdian, in the north east of Yunnan, Shangri-La ending a confict between different locations who had all adopted the name in a bid to increase their attraction for tourists.
Its original inhabitants called it Gyaitang and Bunny Mu. The young woman at the centre of this play is a local, belonging to the indigenous Naxi ethnic minority. The daughter of the local shaman, she has been brought up to observe the traditions, respect the taboos, never to go higher up the path than the lightning-struck tree for the spirit paths are for men only, the summit for spirits. How do you match such ideas with the modern world? How does such a woman live life?
"I refuse to be a panda," says Bunny, "I refuse to go extinct. I want to live, to live well, to live like them." Them are Western tourists, Hope (an Irish photographer in 2001), Sylvia (a wealthy American in 2014) and the Hong Kong-born entrepreneur Nelson, who wants to preserve things and runs an ethical tourism business. He becomes her employer. Then there is Karma, who calls himself a Tibetan nomad, a local tour provider exploiting a variety of other opportunities.
The play moves backwards and forwards in the 21st century and at first it is Karma who seems to be the villain, conning the tourists. Julia Sandford's quiet, conscientious Bunny is unhappy at being asked to go back to Shangri-La to work with him. Andrew Koji does make him seem an untrustworthy melodrama baddy but that element of caricature emphasises the duplicity with which he supplies what the client wants. Kevin Shen's charming, western-educated Nelson may have the best of intentions but does his Authentic China cultural tourism prevent progress, keep people in poverty? Like Karma's viniculture schemes they help the local economy but have bad effects too.
If culture is Disneyfied, show villages offering an ersatz experience, how can one experience the authentic? If something is part of the tourist promotion can you blame the client for expecting to have it? In Hope, Ng presents a photographer after a scoop but who sees a need and an ability in the 14-year-old Bunny. She helps at the same time as exploiting her.
The grown Bunny's rich client Sylvia, while looking for the spiritual, is not as easily deluded as perhaps Karma thinks. Rosie Thomson plays both. There is little on which to build Hope as a character but as Sylvia she suggests a woman eager to believe put perhaps already seeing through things. She naively means well but never acquires any real knowledge or understanding of the local situation.
Charlotte Westenra's pared-down production has a simple setting of circular hangings suggesting a kurt (being passed off as traditional local habitation though it's not) but it acts mainly as a neutral background. As events move through the years it uses projected titles to identify place and date which are not always clear from the dialogue, but these need to be sharper to be easily readable.
There is little physical action; the focus is on Ng's text, clearly presented but trying to present a big picture through this group of characters isn't easy. Halfway through, the play seemed to be becoming muddled but by the end it has made a clear case.
As even Bunny succumbs to the pressures of tourist expectation and hopes for her own future, it becomes clear that everyone is contributing to the loss of traditional society and culture, that change has far reaching effects. Shangri-La raises many questions about the modernisation of societies and the effects of cultural on any kind of tourism.
The back history of the Chinese treatment of Tibet during the Cultural Revolution adds another layer to the erosion of tradition (and partly explains Karma's attitude) but everywhere that traditional society attracts tourism there are problems. This is something we must learn to handle.
Reviewer: Howard Loxton