The Shattered Head
Graham Eatough from an original concept by Maggie Rose
A Traverse and Òran Mór production
A Play, a Pie and a Pint Traverse Theatre, Edinburgh
(2010)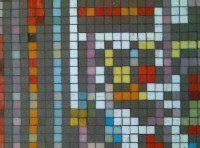 For a one acter this is quite ambitious, spanning two centuries and, with multiple characters played by the three actors, a great deal is crammed into an hour and what a great hour it is.
The play covers the fascinating life of Scots Italian artist Sir Eduardo Paolozzi, beginning with him in hospital after a stroke near the end of his life and then showing his recovery interspersed with recall of his past.
In all honesty I did not recognise the artist's name, but after a little research I realised I walk past his work every day - the large bits of hand, limb and foot at the very top of Leith Walk. And if you're down in London then you may well have seen his Newton at the British Library or the mosaics of Tottenham Court Road tube station.
So you see, you do know Paolozzi, another of his famous works is the Head of Invention on London's South Bank and this appears to have been the inspiration for the play's title. The piece is more than a reconstruction of the artist's life, it pays him far greater homage by a playing up the strange and also the serious issues of his past.
The many faces of Paulozzi are explored, Paulozzi the pop artist, Paulozzi the surrealist and Paulozzi the Scots Italian. The later issue of identity is where the play becomes quite dark as it remembers a particularly ugly episode in Britain's history, the torpedooed SS Arandora Star in which Paulozzi's father, grandfather and uncle died.
Michael Mackenzie and Ian Bustard play the old and young Paulozzi, respectively, and not only give great performances but also bare more than a passing resemblance to the man himself. Louise Ludgate, like the clay in Paulozzi's hands, proves extremely malleable playing the many women in Paulozzi's life.
After this brilliant bioplay to this incredible Italian Scot who was both interned and knighted by this country, I tucked into a macaroni-filled stovie.
Reviewer: Seth Ewin