Shaving The Dead
Owen O'Neill
Guy Masterson, Theatre Tours International Ltd
Assembly George Square Studios
–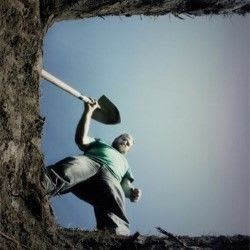 Undertakers Eurig and Connor are waiting to bury a mysterious Charles Sterling. They await the arrival of what turns out to be Connor's half-brother. (Half of Ireland is probably cousins.)
This waiting is filled with the exchanges common and easy between these two, friends of 10 years. Who could imagine these two would have anything new to discover about each other. Some of the exchanges are profound as when they talk about fathers. Some border on fall-off-the-chair as when Conner admits his wife is having an affair with a man and a woman; but it's what keeps their life together spontaneous.
And so these two wait. And talk. And wonder. And more. (No spoiler alerts here.)
Seasoned playwright Owen O'Neill has a secure handle on his characters and their relationship. These two, just shy of being a little creepy, play not quite to the extremes of shock or conflict or disbelief, but easily enough that it all seems new(s). O'Neill leads us slowly and gently, meandering, to the pair's surprising discovery.
Simon Neham is the Welsh Eurig and Alan McKee is the Irish Conner. Smartly suited and sitting next to a coffin… waiting. They handle the macabre humour with knack. Director Guy Masterson has, with the lightest touch, allowed the stillness in these actors. When broken, it catches your breath.
Delightful storytelling by these four: playwright (O'Neill), director (Masterson), and two actors (Neham and McKee), who tenderly coax the event along.
Reviewer: Catherine Lamm