Shaw Shorts (Overruled / How He Lied to Her Husband)
George Bernard Shaw
Orange Tree Theatre
–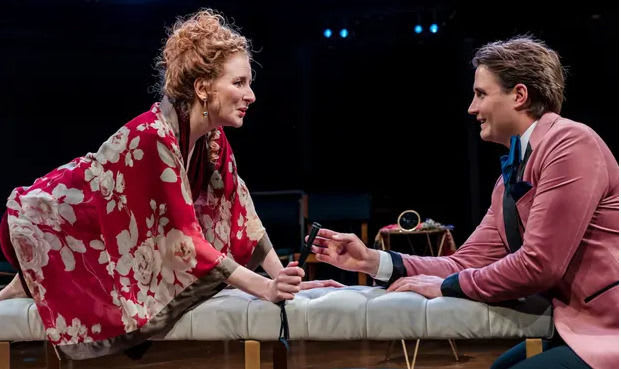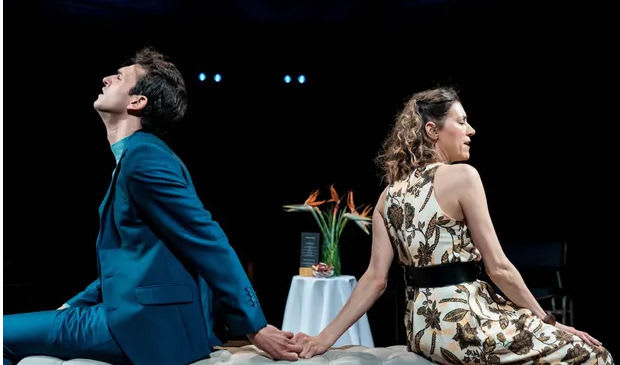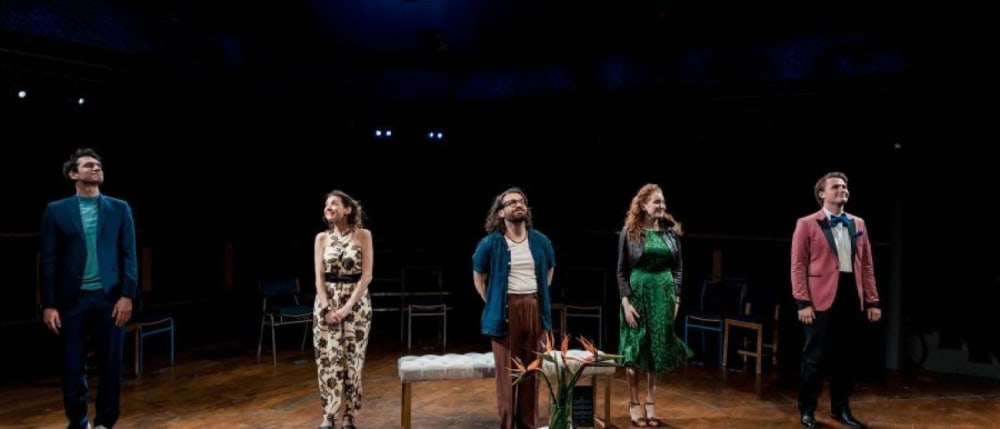 The Orange Tree welcomes audiences back to live theatre to a one-way system of entry and egress and a lower level cleared of its banquette seating which is replaced by single chairs suitably spaced out in bookers' bubbles. Its initial offering after 14 months forced darkness is a double bill of Shaw's short comedies commenting on marital mores.
Though both were written well over a century ago, attitudes haven't changed perhaps as much as you might think and they are still not only funny but pertinent, so, with one character in jeans and another in an elegant red velvet jumpsuit from Nancy Mac, designer Simon Daw gives them a much more modern setting.
How He Lied to Her Husband has much in common with Candida, written ten years earlier. Henry Apjohn is a romantic young poet besotted with an older married lady, just like Marchbanks in that play. Indeed, his infatuation seems inspired by having seen Candida and now he has tickets to take her to see it again, having found the opera she wanted to see sold out.
The lady in question, Aurora Bompas, "is the smartest woman in the smartest set in South Kensington, and the handsomest, and the cleverest, and the most fetching" (that's what her husband says) but she's now in a panic. The collection of passionate poems that he has written to her have gone missing and may be in the hands of husband Teddy. How can they explain them without being compromised? When Teddy turns up to have it out with Henry, things don't go at all as expected.
With Joe Bolland's Henry throwing himself on the floor in his passion, Dorothea Myer-Bennett presenting an Aurora playing at romance and Jordan Mifsúd's Teddy reacting with more pride than suspicion, How He Lied to Her Husband is full of quirky reverses.
Overruled has even more twists and surprises, as a couple who have taken a respite from each other by travelling around the globe in opposite directions find themselves and their shipboard romances staying in the same hotel. It's like a Feydeau farce but instead of bedroom doors you have language.
Alex Bhat plays Gregory Lunn, who longs for a woman to have an affair with, but a promise to his mother and his own conscience means he can never make love to a married woman. He is heartbroken to find that Mrs Juno (Hara Yannas) isn't a widow but still married.
Then their spouses, who have also teamed up, arrive. Jordan Mifsúd's Mr Juno seems a guilt-ridden would-be hedonist in his pursuit of Seraphita Lunn, whom Dorothea Myer Bennett makes a much calmer character than the exotic Spaniard he imagines from her name and her birth in Gibraltar.
Shaw begins to rethink relationships, point up the different behaviour expected according to gender and touch on possible polyandry. At the première, back in 1912, critics thought he was going on a bit and that's still a challenge, though this cast handle it deftly.
Director Paul Miller has shown an affinity for Shaw with several productions since he became Artistic Director at the Orange Tree and these plays gallop along with the cast relishing their language. Yes, they are self-consciously clever and rather wordy, but Shaw's style and Miller's production make that part of the comedy.
On 3 and 4 June, this double bill will be live-streamed and on 29 May and 4 June it is possible to see the plays separately in the theatre.
Reviewer: Howard Loxton