The Shawshank Redemption
Owen O'Neill and Dave Johns, based on the short novel by Stephen King
Bill Kenwright Ltd
Theatre Royal Bath
–

Listing details and ticket info...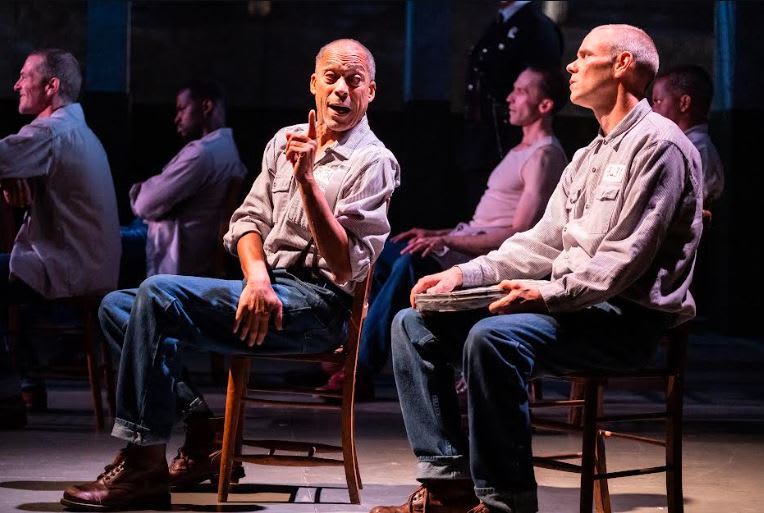 Strictly speaking, Bill Kenwright's production at Theatre Royal Bath is an adaptation of Stephen King's Rita Hayworth and Shawshank Redemption. Penned by Owen O'Neill and Dave Johns, a pair of stand-up comedians, it is a fresh take on King's short story—although a stage version has been around since 2008.
But it is the film version which the audience regularly name-checks when naming their favourites, including the author of this review. The short story itself wasn't revered as highly as King's other works and until the film's release, and was largely forgotten about in literary circles.
As the title aptly suggests, Shawshank Redemption follows the story of Andy Dufresne, a former banker who has been sent to prison for life after being found guilty of killing his wife and her lover. Despite his protests of innocence, Dufresne succumbs to life behind bars and befriends cellmate Ellis "Red" Redding. Before too long, he uses his financial know-how to assist the warden with a money-laundering scheme.
Shawshank Redemption could in fact draw in audiences who might not consider a trip to the theatre, but even with its stage limitations, it is hard to not find the adaptation parodic. Unfortunately, despite it being a "fresh" adaptation of the original short story, it is at times a carbon-copy but without the cinematic quality.
Some of the omitted choices, regardless of restraints, are nothing short of peculiar. Examples would be considered spoilers, but key character motives which drive the narrative are removed or altered to an unsatisfactory and confusing result. It is unevenly directed and lacklusterly performed, with the exception of Coulter Dittman as the hard-done-by Tommy Williams. This is not the fault of the actors, mostly, but the material. It feels like an impression of the 1994 classic with no charm or unique selling point. A real shame.
Adapting classics should be approached with caution (to clarify: screen to play, not to musicals—which is a different conversation). Of course, it has been done as recently as To Kill A Mockingbird and All About Eve. Nevertheless, the path is sticky and treacherous—and mostly, unnecessary. This adaptation of Shawshank Redemption falls certainly under the latter.
A rewatch of the film might be required to cleanse the experience and return to the joys of the picture.
Reviewer: Jacob Newbury