She Called Me Mother
Michelle Inniss
Pitch Lake Productions with Tara Arts for Black Theatre Live
Stratford Circus
–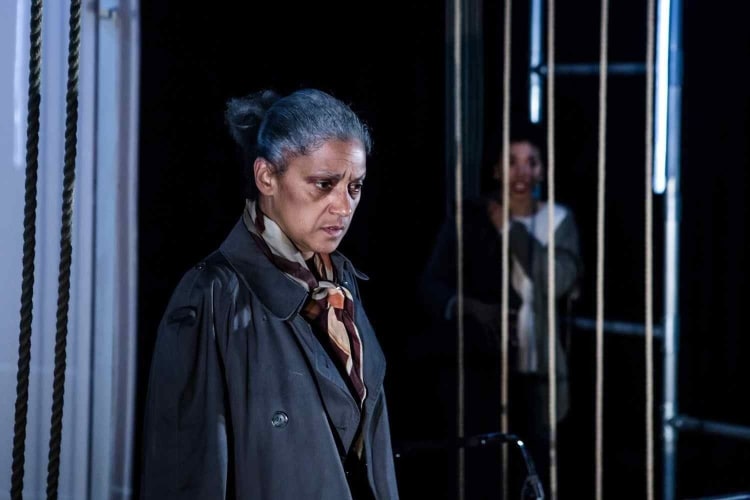 Evangeline is an aging Trinidadian lady who sells The Big Issue at London Bridge Station, her belongings beside her in a shopping trolley.
There is a lady she calls the Black Swan, now regular purchaser. When she first bought an issue she called her not auntie, the usual West Indian way of addressing elderly ladies, but mother. She gave her £3 and said keep the change, and a string of people afterwards did the same.
Now she often stops by as she passes through the station and Evangeline looks out for her. Not for the money but for her smile, "big and open, like the Trinidadian sun", for the way she treats Evangeline like a real person and because she reminds her of her own daughter.
Daughter Shirley left home: walked out and never came back. Just as Evangeline did, except she left it until her husband dropped dead (just in time to stop her from being his murderer). Michelle Inniss play tells us both parts of their family story.
At first it is just Evangeline, speaking directly to the audience with an openness she would never dream of using to strangers in real life. Daughter Shirley appears when she begins to think about her, though Evangeline says she "try not to tink about she too much, 'cause de pain dem thought bring it like a herd of buffalo runnin' wild in a field, an' I beneath dem foot."
Theirs is a moving history of domestic violence, unfulfilled dreams and child sex abuse: of two women both with the wrong man; but while devout Evangeline suffers what she thinks is the Lord's will, her daughter took action. A younger generation sees duty differently while her mother saw her marriage vows binding "til death do us part."
This Evangeline is no weakling; she has come through a tough life and Cathy Tyson gives her a vibrant personality that makes this performance compelling. There is no wig or heavy make-up to make her look older; she relies on performance, on the way that her face expresses pain and loneliness, to create her aging. The script and her voice catch the Trinidadian accent, favoured with a few vernacular phrases, but all is still completely comprehensible to a UK audience.
Amelia Jane Hankin's abstract tubular setting emphasises Evangeline's isolation and its screening layers allow her daughter to hover like a memory behind them until she turns up in real life. Peter Small's lighting adds extra awareness and location is effectively conjured up by station announcements that sound designer Kerri McLean makes sound absolutely authentic.
Chereen Buckley plays Shirley, past hurt still present despite her confidence, but there is a realistic toughness about the way writer Michelle Inniss and director Cara Nolan handle their meeting that prevents it from becoming sentimental.
She Called Me Mother is the second show to tour under the umbrella of the Black Theatre Live consortium of 8 regional theatres, led by Tara Arts (London), which is committed to effecting change for black, asian and ethnic minority (BAME) touring theatre.
Pitch Lake Productions is a brand new company formed by Cathy Tyson, Cara Nolan and Michelle Innis which is based in Nottingham; this is its first production.
Reviewer: Howard Loxton