She Stoops to Conquer
Oliver Goldsmith
Guildford Shakespeare Company
Guildford Castle Bandstand
–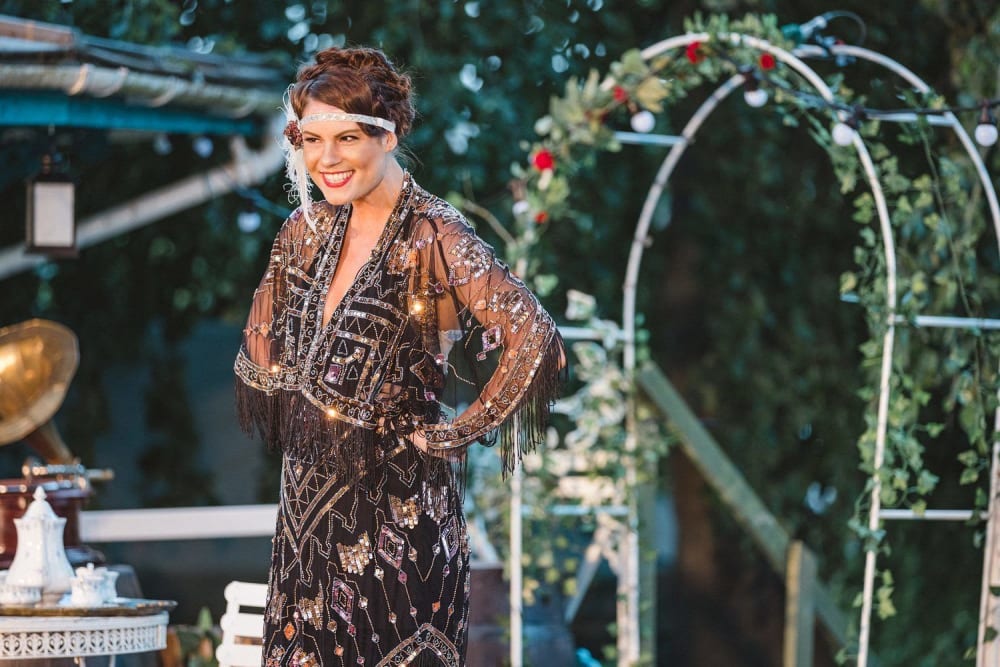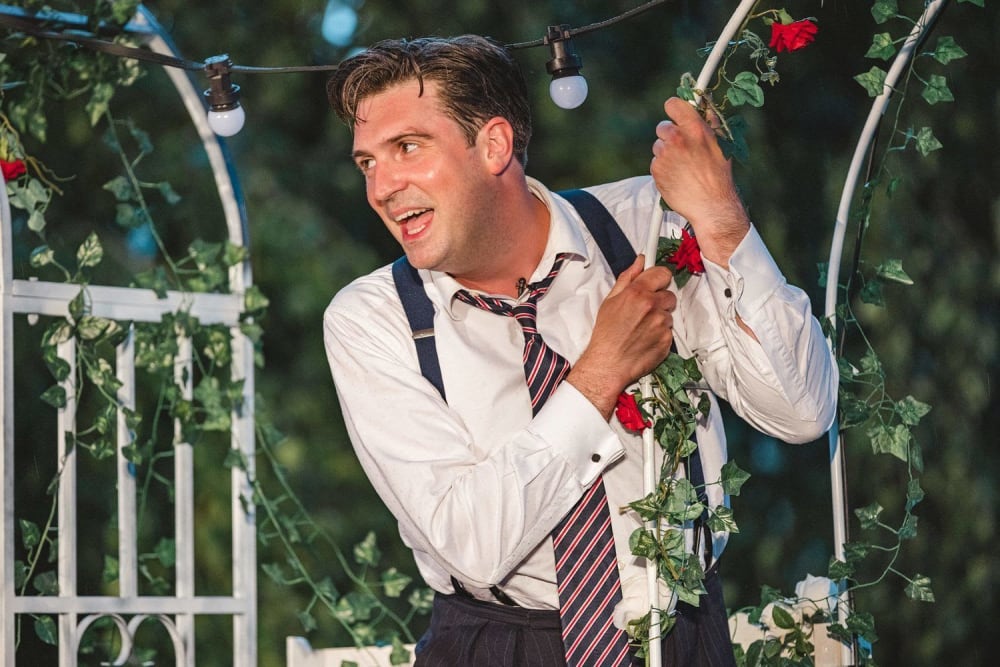 Goldsmith's play premièred at the Theatre Royal, Covent Garden in 1773 and was designed to make people laugh, in contrast to the moralising, sentimental comedy style which had been popular previously—and laugh we did, constantly.
The comedy is basically in the dialogue, which transfers perfectly to a 1930s period with misunderstandings and misdirections having their own part to play, and Tom Littler's direction brings out every nuance of the humour, no doubt aided and abetted by the cast. A raised eyebrow, a mischievous facial expression, makes a subtle but very pertinent emphasis to the feeling of the character, and I'm sure many people could relate to the shy, stammering embarrassment of James Sheldon's reluctant suitor (Charles Marlow).
The story is of Mr Hardcastle, a wealthy country landowner, who, having chosen gentleman Charles Marlow as a potential husband for his daughter Kate (Natasha Rickman), is awaiting his arrival together with friend George Hastings (Tom Richardson), who is secretly in love with niece Constance. Having lost their way, they alight at an inn for directions where the squire's stepson, Tony, happens to be carousing with his friends and, seeing an opportunity for mischief, persuades them that the squire's manor house is the very best inn around.
On arrival, and believing the Hardcastle family to be servants, they (Marlow in particular) treat them with some disdain and disrespect and, although shy to the point of absurdity with Kate, Marlow is a totally different character when she pretends to be a barmaid. Meanwhile, Hastings is in love with niece Constance while Mrs Hardcastle wants her to marry Tony who dislikes her. Confused? They were, but you won't be—not in this production. All is perfectly clear as Goldsmith points out, in his comedy of manners, the differing attitudes expected between the upper and lower classes of society.
The first gasps of admiration from everyone entering the site were for Neil Irish's exquistely conceived set. The bandstand is dressed to resemble a brick building which does duty as the entrance to Hardcastle Manor, the 'horns' over the door being equally suitable as pigeon claws when the venue becomes the Pigeon's Arms, and a large raised and garlanded deck, right up to the magnificent oak tree, is set ready for afternoon tea. Costume design lives up to expectations too, very varied and very apt, and very lovely dresses.
The play begins with Mr and Mrs Hardcastle (Robert Maskell and Sarah Gobran) establishing their characters, she longing for occasional town life and he loving everything old—especially an old wife. All the performers are well known to the GSC except for a young, appealing (and rather dishy) young Corey Montague-Sholay as Tony and a very pretty Rachel Summers, who was due to play Constance but was "otherwise indisposed due to unforeseen circumstances'' for the first half and the role was played by actress Bea Svistunenko, who performed expertly and with feeling even while having to read from a script. Miss Summers took over in act 2, leading to beau Hastings's surprised "Constance? Have you done something with your hair?"—particularly funny as the two women could not have looked more different, but just lke a man!
Matt Pinches takes three roles, and, from his amusing welcoming speech at the beginning to the riotous Charleston at the end, bringing laughter, cheers and wild applause, the show is an absolute joy the whole way through—and it didn't rain!
Reviewer: Sheila Connor