She Stoops to Conquer
Oliver Goldsmith
Northern Broadsides
Quarry Theatre, West Yorkshire Playhouse
–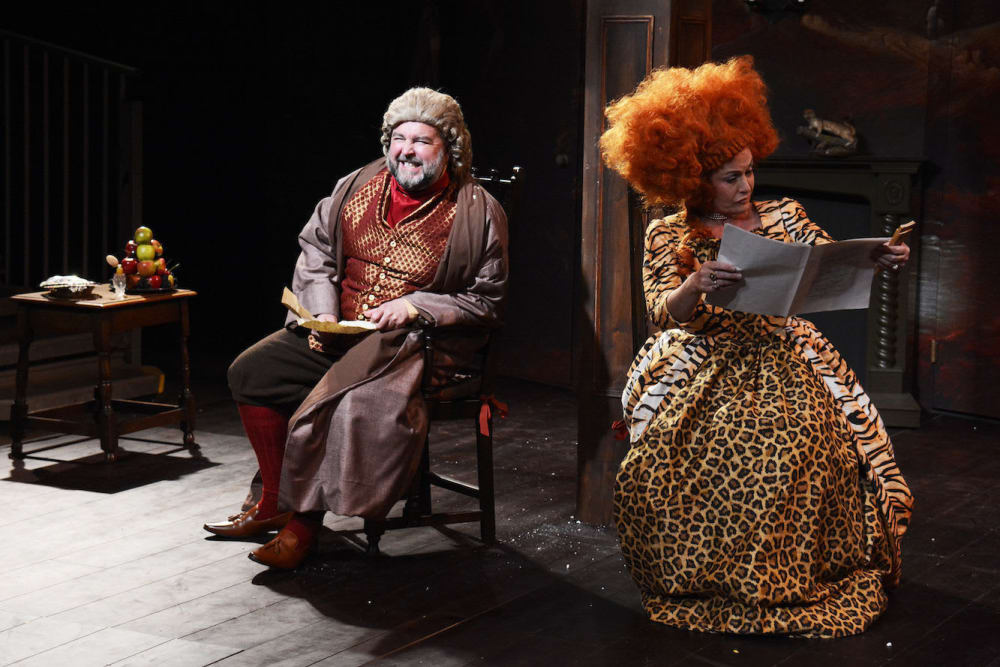 First performed at Covent Garden Theatre in 1773, Oliver Goldsmith's savagely satirical comedy of manners is as fresh as ever.
The humour ranges from sly digs to delicious word play by the way of dips into slapstick and a collection of superbly funny names and addresses. Every trick in the book and all superbly crafted. Goldsmith takes the pretensions, foibles and venality of class and provincialism and smashes them over the audience's heads.
Admittedly, in this production, by giving the whole thing a pantomimic feel, director Conrad Nelson has chosen to draw the poison and protect his audience a little. Laughs are clearly signalled and characters become comic caricatures. The audience of predominantly older middle class provincial theatre goers, are not asked to work too hard. And they love it. There's none so blind as them as cannot see. We are all better at identifying others than ourselves.
Cast members are energetic, indeed sometimes frenetic, in their pursuit of Nelson's chosen mode of presentation. And Nelson has schooled them into a uniformity of style which is admirable. They work as an ensemble, and an extremely talented one at that. Some multitalented. The show is peppered with musical breaks, played (and sung) by the cast.
Along with high and well deserved praise for the cast, I have to add a paean to Dawn Outhwaite and her team of costume makers and maintainers. The clothes are magnificent and add a depth of colour which, with decent lighting and set, make for spectacle.
This touring production has much to offer and cannot fail to please the audiences which now flock to Northern Broadside shows.
Reviewer: Ray Brown