She Stoops to Conquer
Oliver Goldsmith
Northern Broadsides
Rose Theatre, Richmond
–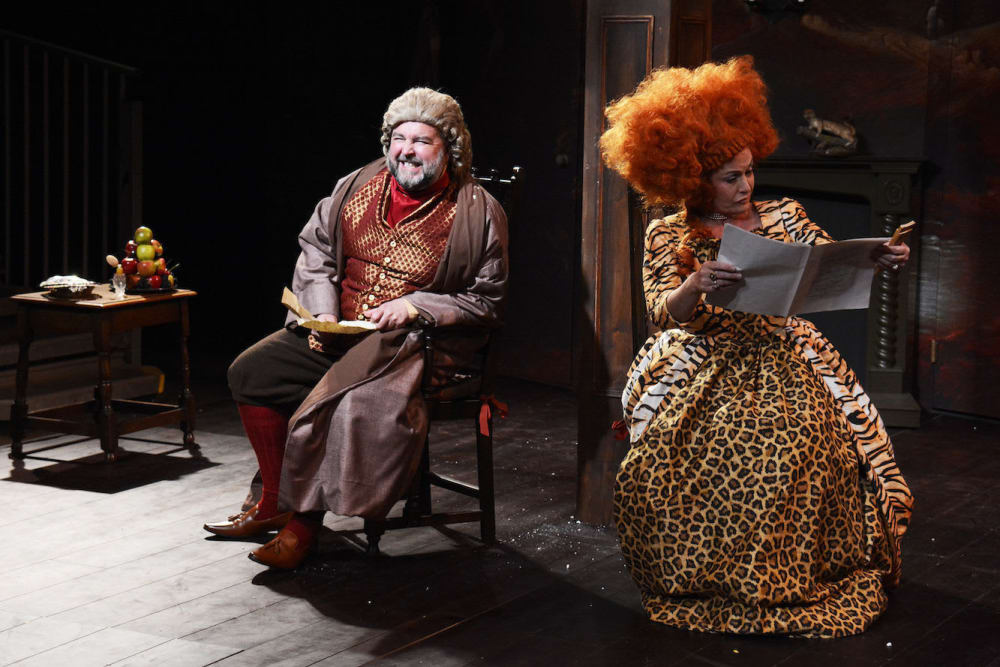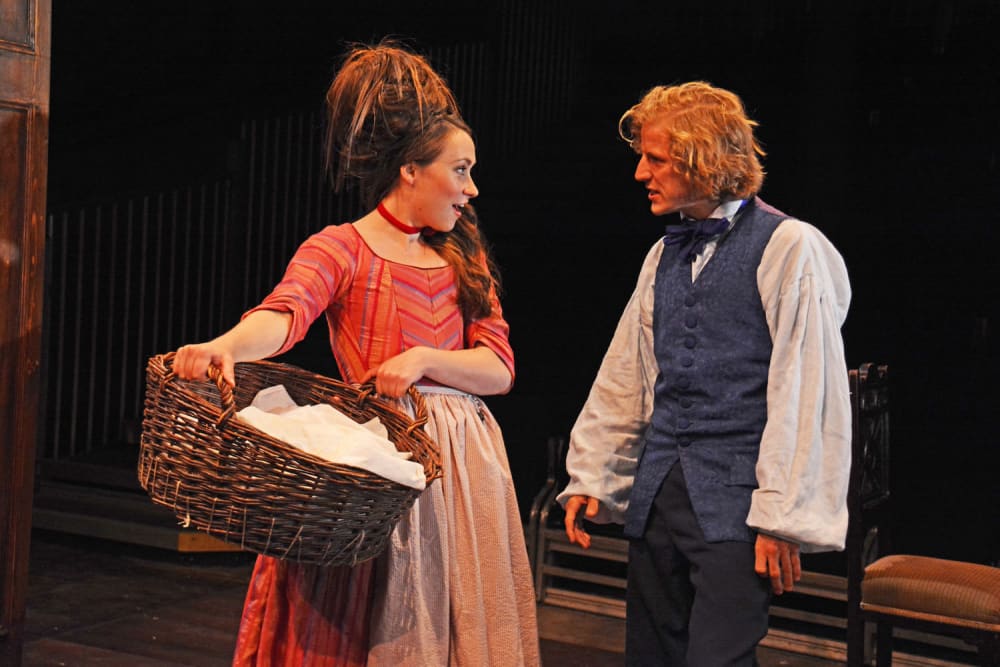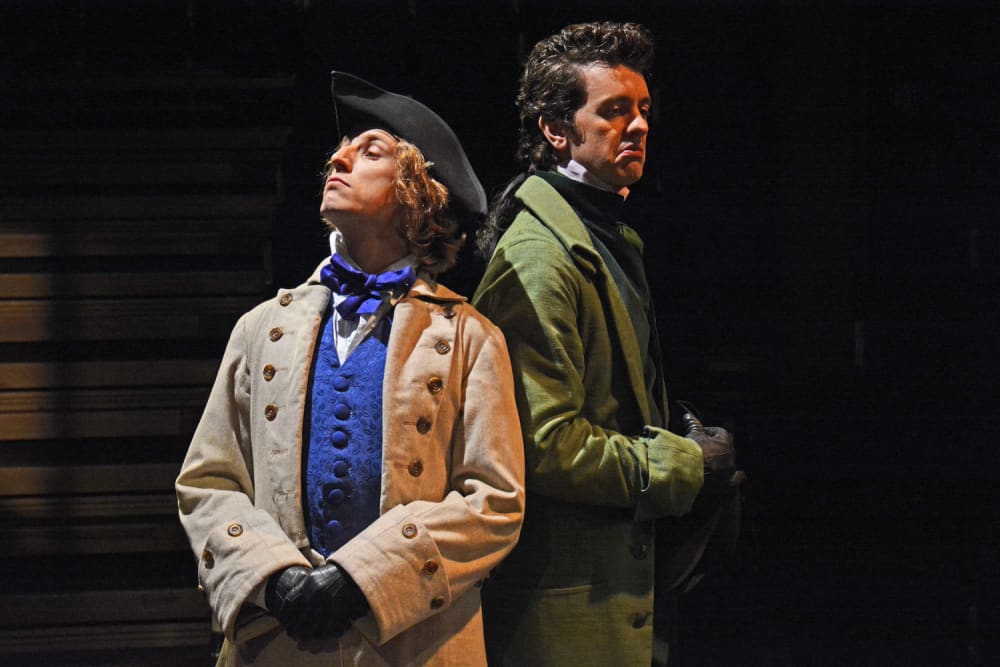 Goldsmith's rollicking comedy gets a lively treatment in this Northern Broadsides production which is touring. Director Conrad Nelson has tricked it out with songs and dances and even a snatch of Mozart as a pair of lovers borrow a fragment of the Magic Flute.
Designer Jessica Worrall provides a set of backing screens painted with rich wooded landscape and a forest of stags heads and candle lights to turn them into the walls of both a country inn and the elegant country house of Mr Hardcastle.
A spirited opening quickly presents up well-heeled Hardcastle, a northern country gentleman with no time for London's fashionable fads and follies, and his wife (a second marriage) who clearly likes to keep up with fashion and craves a trip to town.
Howard Chadwick and Gilly Tompkins make them a richly comic pair, he in his old fashioned brocades and name-dropping reminiscences of military manoeuvres and she sporting a bird's nest ginger wig and gowns patterned with leopard spots and tiger stripes and knocking years off her age. This is joyous playing with a whiff of Christmas pantomime that seems absolutely right.
The eighteenth-century extravagances are carried through with ladies' towering wigs and huge hats dangerously balanced and in some of the other performances too, though they are not so accurately pitched.
Hardcastle has plans to get his lovely daughter Kate married. His old London friend Sir Charles Marlow has a seemingly-eligible son who is due soon to pay a visit. His wife wants to get Tony Lumpkin, her son by her first husband, married to Hardcastle's niece Constance Neville and so keep her inheritance in the family.
Lumpkin is not your usual country bumpkin though; he is a mate of the lads in the Two Pigeons pub. Jon Trenchard plays him in the campest of manners, in leopard skin patterns to match those of his mother.
Maybe he's imitating the manners of a metropolitan macaroni, but to make it work he needs to make much more contact with the audience, sharing things with them as he does when he's dancing with his tap room fellows, like Alan McMahon who, cross-dressed as maid Pimple, manages it with a quick look of complicity.
Marlow and his buddy Hastings, who is already courting Constance, arrive at the Pigeons to find there is no room for them, but they bump into Lumpkin. A great practical joker, he suggests there's a another inn a mile up the road and directs them to the house of his stepfather.
From that deception grows a farcical confusion. Marlow assumes Hardcastle is an inn landlord, his family its staff. He treats them with commanding discourtesy, while Hardcastle is bemused and offended by this unexpected behaviour from the son of his old friend.
Constance realises Tony has played one of his pranks. She tells Hastings and Kate but they all go along with maintaining the fiction for their own amusement. Marlow is completely relaxed with his underlings but awkward with posher people, so Kate plays the potgirl to get along with him: she "stoops to conquer"—and of course everyone ends up with the right partner in a happy ending.
Hannah Edward's Kate Hardcastle is absolutely charming. Lauryn Redding has a light comic touch as Constance Neville and is nicely matched with Guy Lewis's Hastings. Oliver Gomm, however, often overplays Young Marlow giving him a plethora of neurotic tics and grimaces. He is meant to be expressively embarrassed and embarrassing and this would work if only he managed to get the audience to like him to begin with, but it is not until the story is beginning to unravel that he establishes any real contact with them.
That this production doesn't here fire on all of its cylinders doesn't mean it wouldn't in a more conventional theatre. Though initially modelled on the idea of an Elizabethan playhouse, this is not really a thrust stage and it is not easy to embrace the whole of the wide arc of the auditorium or to be heard across all of it.
She Stoops is one of our great classic comedies and this production is packed with energy, though perhaps not quite enough projection from some of its players for this particular venue. It is a pleasantly enjoyable evening but elsewhere (or when the cast have got used to this venue) it may well prove a hoot.
Reviewer: Howard Loxton