She Stoops To Conquer
Oliver Goldsmith
Creative Cow in association with the Yvonne Arnaud Theatre
Yvonne Arnaud Theatre, Guildford
–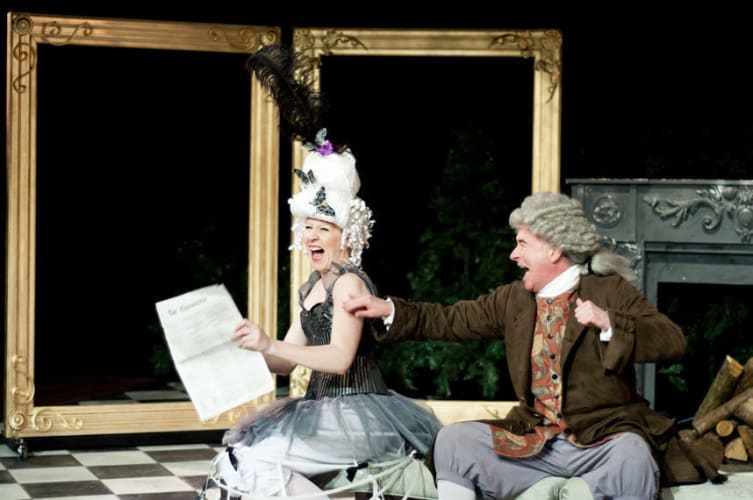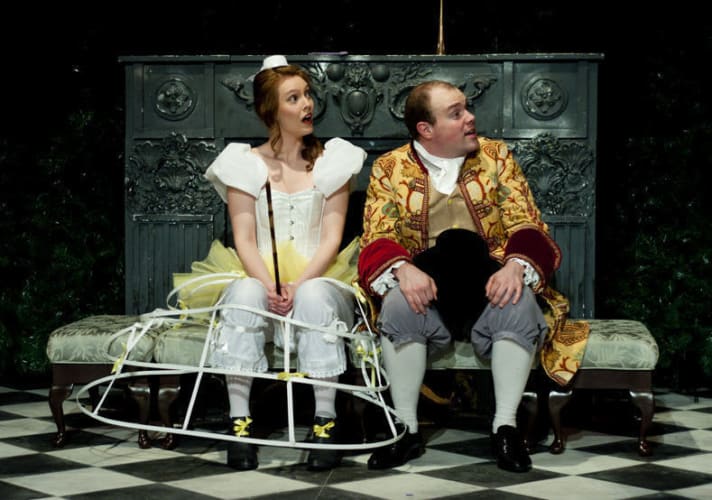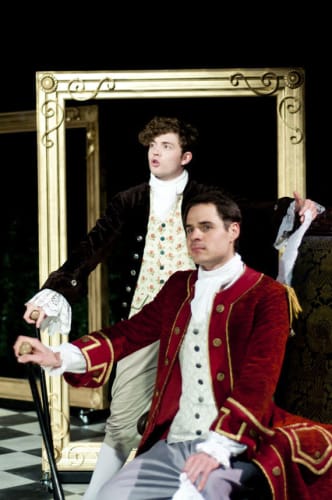 First performed in 1773 with Goldsmith's aim of bringing comedy back to the fore after more sombre fare, this is a play which has stood the test of time and much of it still relevant. Think of John Osborne and his 'kitchen sink' gritty dramas pushing Noël Coward and his ilk out of favour, later to be back in fashion.
Old fashioned country gentleman Mr Hardcastle bemoans the fact that London folk were infiltrating the country villages, bringing their pretensions and affectations with them, and disillusionment with government is also high on his list—sound familiar?
Creative Cow has rightly treated this play as a glorious romp, and as laughter is supposed to be the best medicine we should all feel the better for it, especially with Amanda Knott keeping the production at a cracking pace with comical misunderstandings falling over each other.
Life-sized picture frames are used to create various scenes of doorways, corridors or a country inn, and the cast whisk all the scenery and props around, at one point causing a lot of laughter when the trees seen in the grounds outside rise up, march to the front of the stage and re-arrange themselves to join the horse pond.
The rather complicated plot revolves around the machinations of Mrs Hardcastle's son Tony Lumpkin (previous marriage) played as if born to the role by recent graduate Joe Bateman, making his professional debut. Indulged by his mother, who believes he has no need of an education to spend the fortune he will inherit, his stepfather regards him as a spoilt oaf and dislikes his habit of frequenting the low-life of The Three Pigeons and of playing practical jokes, but Toby is not as silly and self-indulgent as he at first appears.
In act 1, we are told a lot about what to expect from the play with the 'double act' of the Hardcastles' affectionate argument, mostly addressed to the audience and with great expressions to match, and with Katherine Senior in terrific form as the manipulative matriarch and David Summer her realistic husband.
We are told a lot more when learning that Marlow, reluctantly coming to pay court to daughter Kate Hardcastle, is a stammering shy wreck with fashionable ladies but a rampant rogue with woman of lower class. When he and friend Hastings come across Tony at the Three Pigeons, he directs them, with great glee, to the Hardcastle house, telling them it is an inn where they can spend the night, and the fun and complications begin.
They treat their bewildered host appallingly, demanding to be waited on, totally ignoring his polite efforts at conversation, a scenario made all the funnier because we know what's going on and they don't.
Leonie Spilsbury is a delightful Kate with Polly Hughes her attractive (rather fast-talking) cousin in love with Hastings (Jonathan Parish). George Jennings is either annoyingly arrogant or painfully shy as Marlow and Steve Jacobs is everyone else. All performances first class.
Some of the costumes are a little unexpected: hooped skirts without the skirt and bloomers proudly shown. I wonder how that would have gone down with 18th century audiences.
This mixture of social satire and farcical comedy with a couple of love stories thrown in, not to mention comic song and carousing in the pub, is a real 'something for everyone' treat. Great fun.
Reviewer: Sheila Connor