Shebeen
Mufaro Makubika
Nottingham Playhouse Theatre Company in association with Theatre Royal Stratford East
Nottingham Playhouse
–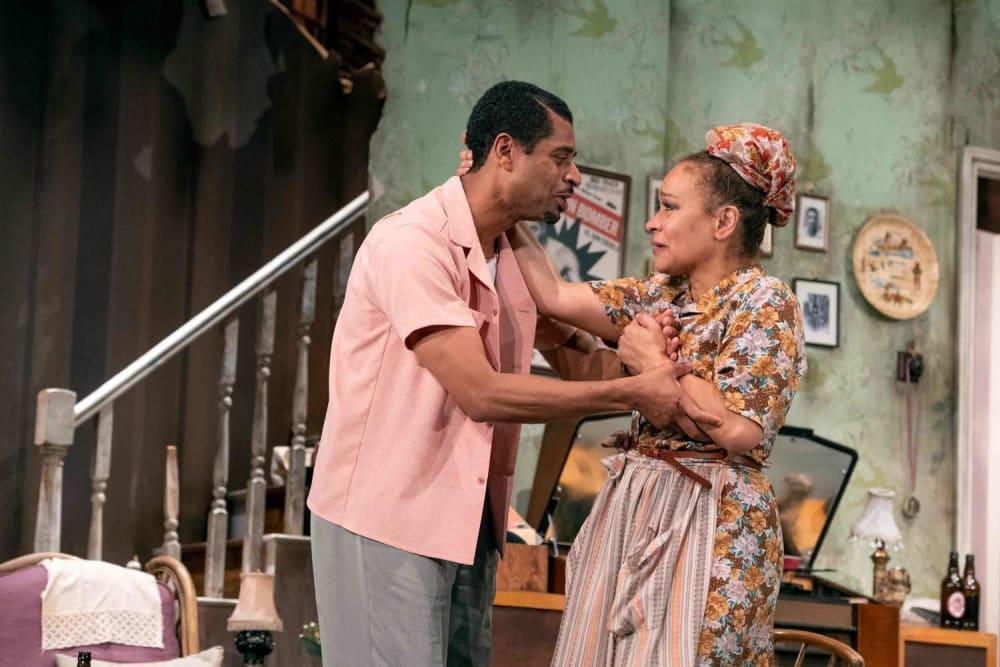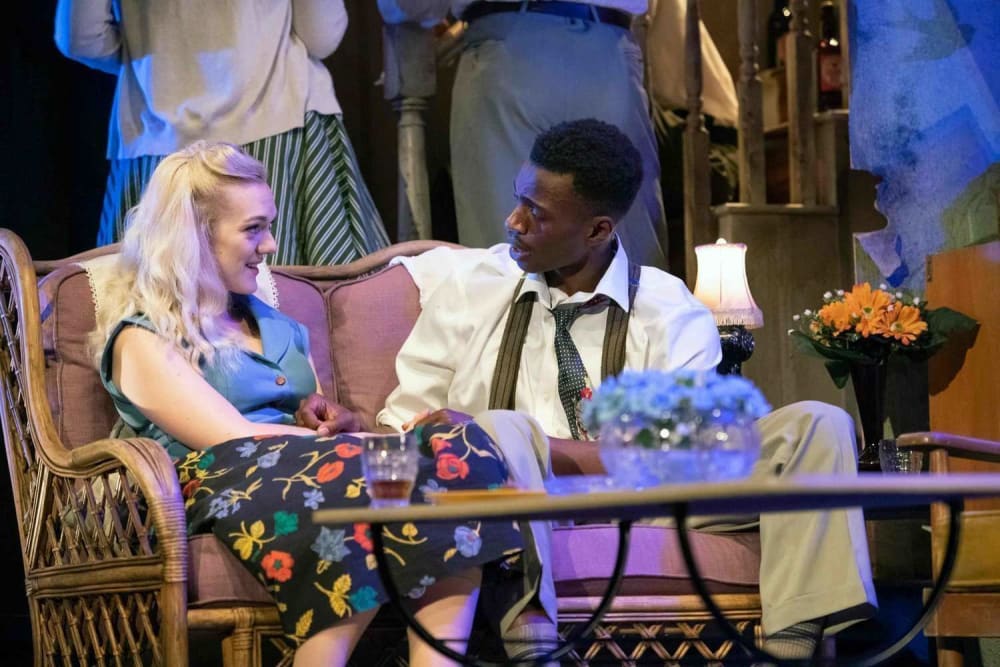 Nottingham writer Mufaro Makubika's Shebeen won the 2017 Alfred Fagon award—which promotes new writing by playwrights from African and Caribbean descent—for best new play of the year. That was before it had even been staged. Now his biggest work is having its première in a place he calls home.
A shebeen was an illicit bar or club where alcohol was sold without a licence. In Makubika's play, Pearl and George, a couple who have recently arrived from Jamaica, hold parties in their home in the Nottingham suburb of St Ann's.
Shebeen is set in 1958, just before a race riot in Nottingham which came a week before the more well-known Notting Hill riots. It was a time when discrimination was rife and landlords looking for tenants posted signs saying "no blacks, no dogs, no Irish".
The play highlights anxiety in the neighbourhood because of racial undercurrents which are fuelled by the relationship between Linford, a black man, and Mary, a young white woman, sensitively portrayed by Theo Solomon and Chloe Harris. The Caribbean community is brought together at Pearl and George's shebeen where they can relax and be themselves.
Director Matthew Xia fails to inject life into the first half of the play. There's dancing going on in Pearl and George's house but the music can hardly be heard; a joyful atmosphere is absent.
It's only when police arrive that the play comes startlingly to life. Incidents of police brutality and offensive language draw gasps and shrieks of disgust from the audience, some of whom are shocked at what they see and hear. The tensions continue in the second half.
The success of Shebeen for the most part is scenes in which two characters clash. There is friction between Pearl and former boxer George, portrayed enthusiastically by Martina Laird and Nottingham-born Karl Collins, over financial struggles and their hopes for the future.
Laird excels in a confrontation with Mary's bigoted mother Mrs Clark, played impressively by Hazel Ellerby, who tells Pearl "you don't belong here". More wails from the audience.
There are significant performances from Rolan Bell as the carefree, cocksure Earnest who lights up the stage whenever he appears, Karl Haynes as rational good cop Sergeant Williams and Adam Rojko Vega as headstrong bad cop Constable Reed and boxing promoter Robert Dunne.
Grace Smart's set is particularly evocative, with its tired look, paint peeling off damp walls and functional '50s furniture.
But the lack of atmosphere in the first half lessens the contrast between the togetherness of the community and the horrors they have to face. Nonetheless, the sheer power of Makubika's work shines through.
It is obvious that many people who are not regular theatregoers decided to make the effort to see Shebeen. All credit to Nottingham Playhouse for staging a new play which is bringing in a new audience.
Not everyone was captivated by it. But the play has taken on greater significance because of the recent Windrush scandal and the Home Office's hostile environment policy. Shebeen expertly shines a light on a community which suffered violence and intolerance simply because of their colour.
Reviewer: Steve Orme