The Shell Seekers
Terence Brady and Charlotte Bingham, adapted from the novel by Rosamund Pilcher
Arts Theatre, Cambridge, and touring
(2006)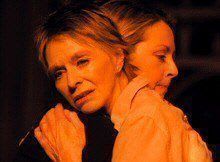 It had to happen. Discounting the two predictably poor student productions, this season at the Arts is simply the best I have ever seen at a regional theatre; shining talents like Ian Richardson and Belinda Lang heading its revivals, the very best of the major new plays (i.e. Mammals, O Go My Man, and Two Thousand Years) - and Festen, Simon Callow, and Alison Steadman still to come before summer. It was only a matter of time then, before one of the received productions didn't fire: and it is my sad duty to register its having happened: The Shell Seekers crashes, and then burns (or perhaps cremates).
I hadn't read the novel by Rosamund Pilcher, wanting to come to the play fresh, although, even if I'd written the book myself, the story - and the dialogue - could hardly have felt any more predictable. When you're told at the start that Penelope (Token Old Lady, played by Susannah York) has just come out of hospital, you just know she'll be six feet under before the curtain call; as soon as her children offend her by talking about auctioning her priceless pictures, the post-funeral scene (in which her will doesn't bequeath the kids the pictures) seems unavoidable, and as soon as Token Old Lady's young guest, Antonia, starts courting the young gardener, you can feel flashbacks to Token Old Lady's own early romantic life coming on, with Old Lady and Long-Dead Beau played by the two young actors.
Not that there's anything wrong with simultaneous past-present doubling- Stoppard's Housman play, The Invention of Love, uses it ingeniously, the recent Pericles at the Globe used it to revitalise a rarely-performed Shakespeare, and, only two weeks ago at this address, Polly Teale used a similar double to illuminate the psychology of Jane Eyre. Here though, it only reminds one its been done far better elsewhere, a device redundantly used to hammer home a youth-age contradiction which is already perfectly clear; and one not helped by slow, clunky changes into the flashbacks. The trick of two simultaneous narratives is to let them flow seamlessly into each other - David Taylor's production has them clumsily interchanging between silences which ensure that any palpable tension has plenty of time to dissipate before anyone resumes speaking.
Simon Higlett's set - a landscape of landscape paintings - is fine, and Jack Thompson lights them to look believably nostalgic. Taylor directs at zimmerframe pace, and the play leaves the cast as unstretched as swimmers in a paddling pool. Some still acquit themselves remarkably well - Nicholas Atkinson and Olivia Llewellyn show exciting potential as the young lovers, and Karen Ascoe and Damien Matthews squeeze everything they can out of their one-dimensional characters. Susannah York, while not justifying her star billing, recites a Louis MacNeice poem beautifully at one point and Martin Wimbush deserves huge credit for making George so funny, not least as he's playing against the dreadful Carol Holt, who seems to have wandered in from a church-hall drama club.
There is, however, one interesting youth-age contradiction. In modern plays today, it seems the trend for the young characters to have depth while the old ones are just written through cliché (the RNT's Southwark Fair is a good example) - this play bucks the trend by founding all its characters firmly in cardboard stereotype.
Yet - to step outside the frame for a moment - what was most amazing was that the sea of pensioners in the audience didn't seem to mind being stereotyped. They all loved hearing Token Old Lady reminiscing about romance in her day, watching her hide her valuable relics at the back of her wardrobe, and endlessly repeat information. There was even a murmur of gleeful geriatric approval when Token Old Lady gets her revenge on her greedy, selfish children in her will. And, although everyone I spoke to under 60 had found it as dull as I did, several of the elderly audience members were positive. 'Excellent', I heard one old dear sitting just along from us say, though quite how she knew was a mystery, as she seems to have been plugged into the lighting board: her head nodded forward as the house lights went down.
Unless you're an insomniac then, or one of the sea of Pilcher-loving pensioners this really is well worth missing. The production provides quite a nice frame for The Shell Seekers but one which the play itself doesn't even begin to merit, and in the end, it's the evening itself which becomes shell-like: vaguely pretty on the outside, but inside, totally empty. Throw the whole lot back in the sea.
Reviewer: Robert William