She Loves Me
Joe Masteroff. Music by Jerry Bock, Lyrics by Sheldon Harnick
Sleight of Hand Productions
Upstairs at The Gatehouse
(2006)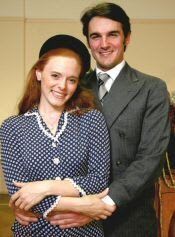 She Loves Me is a wedding gift from husband and wife team P and D, who decided to stage their favourite show rather than go on honeymoon. The result is an evening of talented performers presenting a light musical with great commitment.
The musical takes the form of 'break into song every five minutes' and this won't be everyone's cup of tea. However the acting scenes are just as convincing as the singing, with great comic timing and characterisation - Saul Reichlin playing Maraczek is a fine example of this, playing the comic and low moments with equal attention to detail.
There are also great, feisty female leads which is a welcome notion in this 'romantic musical' genre. Julia G Addison and Faye Austin present a fantastic duet with "I don't know his name" and their strength carries through the rest of the performance. Lincoln Stone as Georg is spot on vocally, with "Tonight at eight" and "She loves me" presented beautifully. Stone also pitched his character just at the right level - a proud, nervous lover who always seemed believable.
I wondered whether the musical might not work better in an alternative space. The small vignettes, scene changing and multiple characters felt a little busy on The Gatehouse stage. Indeed the staging did feel a little tired at times and the piece seemed to come to life at certain moments - the "café dance" and "12 days of Christmas" come to mind. I wondered whether these 'high' moments could have been more regular - especially in a very long first act.
The lone piano, played expertly though it was by Derek Hirst, felt a little isolated and more space - and, I suspect, budget - may have brought welcome musical back up.
However, this shouldn't retract from a fine ensemble performance with a collection of great singers belting out catchy songs. She Loves Me has no weak links in the cast and this is a great opportunity to showcase impressive talents. As a wedding present from bride and groom to themselves, She Loves Me beats a pop up toaster or John Lewis Vouchers any day.
"She Loves Me" runs until 12th August, 2006.
Reviewer: John Johnson