The Shelter
Oliver Birch
En Masse Theatre
The Egg, Theatre Royal, Bath and touring
(2006)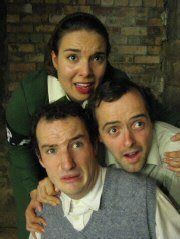 Oliver Birch's latest play is a fine example of stage-writing for children. Directed by Amy Leach for En Masse Theatre, the production doesn't make that common mistake of condescending to its target audience (eight plus). Instead Leach has created a mesmerising reality with a shattering climax that leaves the audience - no matter what their age - spilling out into the foyer in bewildered shock.
Set in London in 1945, you are drawn into the world before finding your seat. An ARP warden, who we come to learn is mother of two, Angela Trumpet, (a captivating performance by Erica Guyatt), urgently ushers you into the shelter. She is joined by her two sons, Tom (Daniel McGowan) and Malcolm (James Powell). Both actors give well-nuanced performances that go far beyond the trite and clichéd child characterisations so often served up as children's theatre. Tom is the oldest, and McGowan subtly wrestles with all the injustice and hurt that the first born so often feels, without ever over-doing it.
Colonel Piper and his wife Hilary Piper, played by Benjamin Smith and Tiffany Wood, are utterly convincing in their outward show of middle class respectability. But woven into their performances is a building sense of the ominous which is expertly done. The mystery is stepped up by George (John Biddle) and Sven, (Mary Wells), military musicians who provide great entertainment and heighten the suspense. Sven, in particular, adds to the mix, refusing to remove his gas mask and only communicating with his accordion.
The play combines historical detail and empathy - about the blitz, evacuation, and loss - with an utterly engaging storyline, so that you are as unaware of its educational value as the children. The set is an evocative bare shell - bunk beds, a few blankets and a curtained off 'latrine'. (The audience are invited to sing along so as to disguise the sounds of the "naval assaults" and "aerial attacks" as Colonel Piper pays a visit!)
But the real triumph of this piece is the final scene. Leach has the actors leave the stage in sinister circumstances, and doesn't break the reality by having them return for a curtain call. Adults and children alike left the theatre bemused and shaken.
This production shatters any pre-conceptions you may have about theatre for children. With great writing, a strong cast and creative direction, this is an engaging piece of theatre.
Worth catching, "The Shelter" tours to the Adam Smith Theatre, Kirkcaldy, 13th - 15th November and the Redbridge Drama Centre, Woodford, 16th & 17th November.
Reviewer: Allison Vale