Sherlock Holmes: A Working Hypothesis
Alexander Wright
The Flanagan Collective and Hartshorn-Hook Productions in association with York Theatre Royal
York Guildhall Council Chamber
–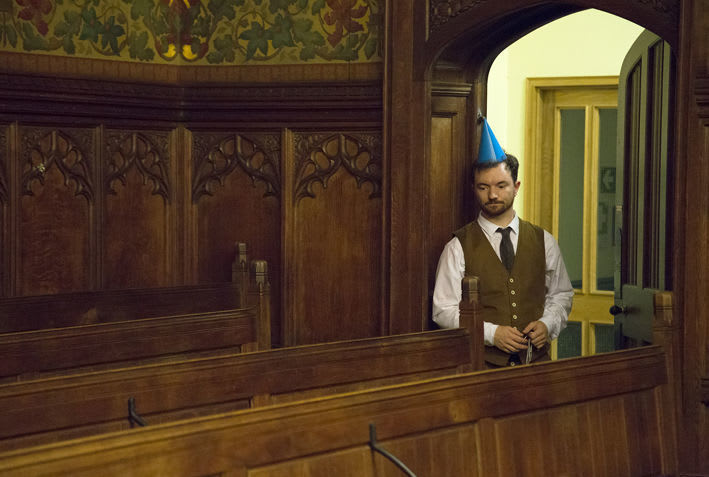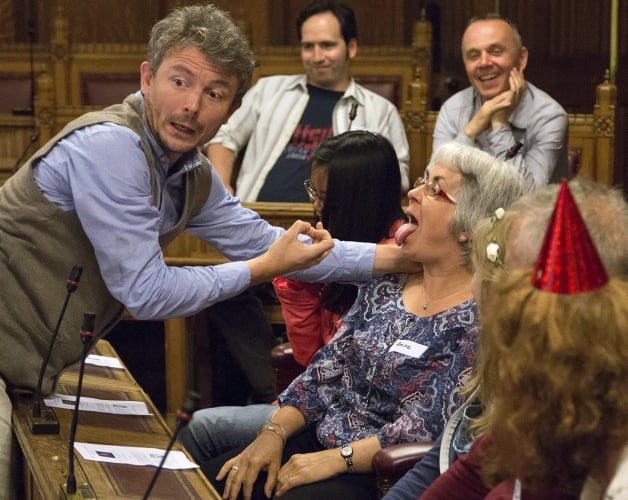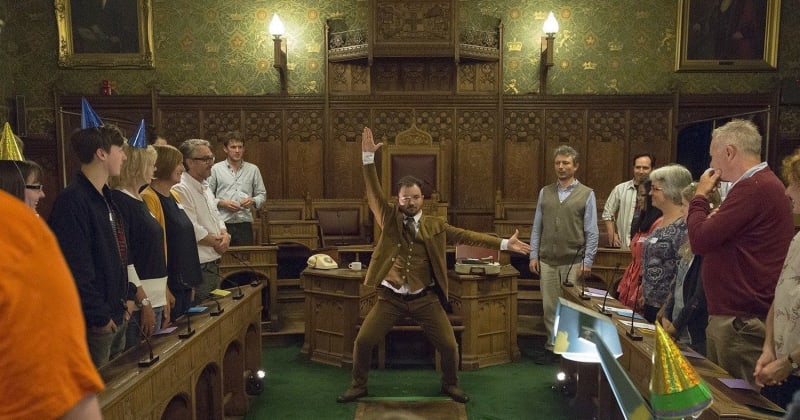 Alexander Wright's Flanagan Collective has reunited with some old friends in creating their latest "interactive drama", based on the continuing adventures of Sherlock Holmes.
"Continuing", because the show situates itself in the early 1960s, where a (surprisingly youthful) Holmes has disguised himself as a German Professor of Criminology. In this guise Dominic Allen, giving free rein to an outrageous Teutonic twang, greets the audience and sets about a gleefully comic faux-lecture.
Soon, though, the evening is interrupted by someone who sees through the legendary detective's disguise: George Williams's Dr Watson, who is shocked to find his old friend still alive.
Williams brings an earnest intensity to the role, tempered by moments of wry humour, while Allen moves on the opposite trajectory through the evening. In many ways it is Allen's show, and the most joyous moments are in his off-the-cuff interactions with the audience and the elaborate storytelling he undertakes with great verbal dexterity. Allen is a likeable performer of immense talent, and his partnership with the similarly endearing and powerful Williams makes for an entertaining evening.
As the story progresses, though, Holmes moves into darker, more brooding territory, and Wright's script gives each performer scope to embark on monologues of great intensity. These are staged with clarity and wit by Tom Bellerby, who has also directed two previous Flanagan Collective shows.
There is a third character – but to say much more would be to spoil several of the evening's more thrilling twists. Suffice it to say, a much anticipated personality does put in an appearance, and the actor brings a steely, level menace which counterpoises perfectly Allen's lighter – but still at times glowering – performance.
The 60s setting is sporadically referenced, as are some classic moments from the Conan Doyle stories, but this is a production which evokes their spirit rather than staying rigidly obedient to setting or background. For instance, the story seems to ignore the stories Conan Doyle wrote resurrecting his hero post-Reichenbach Falls, and offers an alternative timeline for the events since that fateful encounter.
The aforementioned twists are mostly pleasing and suitably labyrinthine, though towards the end the script tends towards shrill ticking-timebomb territory rather than subtler detective work. There are some fine and well-judged quotations from Conan Doyle's original tales – Holmes explaining his thirst for "brainwork", for instance: "my mind rebels at stagnation".
There are some flaws in the production, though. Towards the end, a rather surreal dive into an extended allegorical tale of "Super Holmes", a dog who chases spiders, provides a somewhat jarring, odd set of imagery. Some of the audience participation is a little oversimple and too drawn out. And the at times enforced interaction may not be to everyone's tastes: the production is at its best when Allen and Williams are conversational rather than confrontational with the audience.
But this is a set of lovely performances, with a script which is consistently entertaining for at least the first half of the evening, albeit patchier in its concluding moments. Bellerby's direction sends his actors spinning with ease around the beautiful surroundings of York's Guildhall, and Wright's script gives licence to the actors to improvise around the otherwise tightly crafted tale, meaning that every night will genuinely be a different experience.
Reviewer: Mark Love-Smith