Sherlock Holmes – The Sign of Four
Sir Arthur Conan Doyle, adapted by Nick Lane
Blackeyed Theatre in association with New Theatre Royal, Portsmouth and South Hill Park Arts Centre
Yvonne Arnaud Theatre, Guildford
–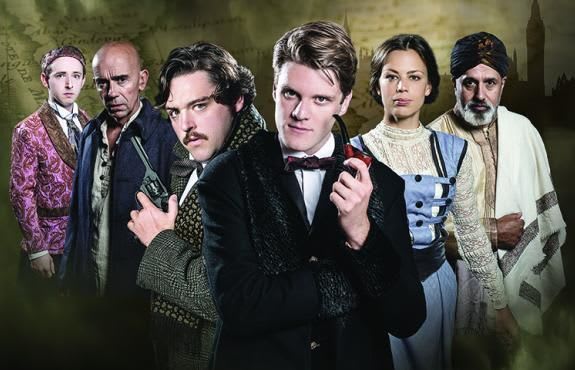 In Nick Lane's adaptation of The Sign of Four, six hardworking actors take on sixteen roles between them, most of them also playing a varied selection of musical instruments as well as rearranging props and scenery at whirlwind speed in a story which takes us from Sherlock's flat in Baker Street, through the back streets of London, a chase down a river and even ventures to India where the story really began. There is also a charmingly shy and hesitant blossoming love story between Dr John Watson and Mary Morstan who, in a later novel, becomes his wife.
Victoria Spearing's versatile set, rather like timber scaffolding, adapts to every location needing no other embellishments—except, at one point, just adding a lifebelt for emphasis to make sure we know our heroes are now on the river. Basically a construction of lattice-like shapes vaguely suggesting London rooftops, it also translates easily to a suggestion of Indian-style pagodas.
Lane, who also directs, has kept to the spirit of the original novel, taking Sherlock Holmes seriously rather than making a pastiche of his quirks, and Luke Barton is suitably cool, serious, intense, sometimes aloof and a younger Holmes than we are used to, addicted to the cocaine which he believes sharpens his brain. Also, as we find later in the play, he has not yet learned how to play the violin.
Dr Watson, his friend and constant companion, usually the narrator in the novels, occasionally moves from dialogue to address the audience, moving the story smoothly along, something which Joseph Derrington manages with ease and charm while also demonstrating the affectionate bond between the two men.
It's a beautifully crafted story, but very complicated, involving murder, lost treasure, intrigue, threatening notes, betrayal, even bringing in Toby, a dog with a good nose, to follow a trail. The action in act two (in which there is much more than in act one) moves to India at the time of the very bloody Indian uprising when colonialism was at its peak and injustice rife. Horrifying to think of today, but one wonders what the Victorians thought at the time.
I have to admit I did find it confusing at times with so many actors doubling up, but there are some stellar performances from the cast. Stephanie Rutherford is refined and respectable as Mary, but expertly switches demeanour and voice to suit as the two working class women. Christopher Glover is bombastically funny as policeman Athelney-Jones, so sure he has solved the murder mystery, and a complete contrast as Indian Khan. Ru Hamilton has fun with hypochondriac Thaddeus Sholto but with a completely different attitude as Major Sholto, his twin, while Zach Lee comes into his own towards the end with a long, involved speech which he delivers with panache.
Barton and Derrington as Holmes and Watson have the luxury of a single role each, which they both have nailed perfectly.
I hate to say this but, in spite of my admiration for a very well presented production in all aspects, for me the story reads better than the stage version. Just my opinion.
Reviewer: Sheila Connor