Sherlock's Last Case
Charles Marowitz
The Watermill Theatre Company
The Watermill Theatre Newbury
–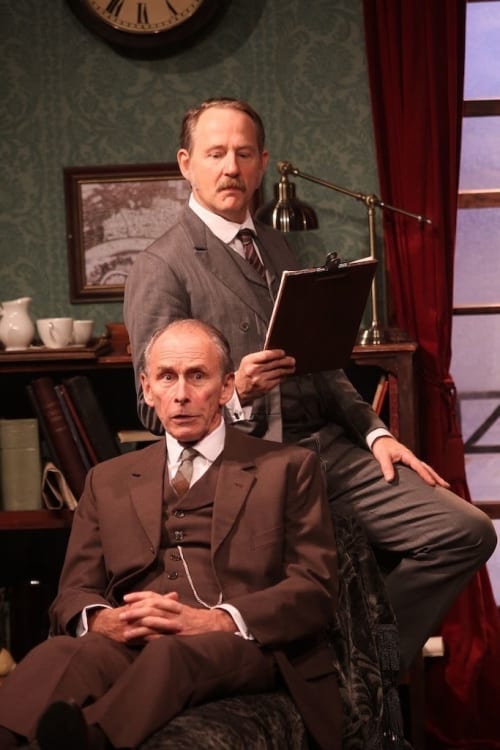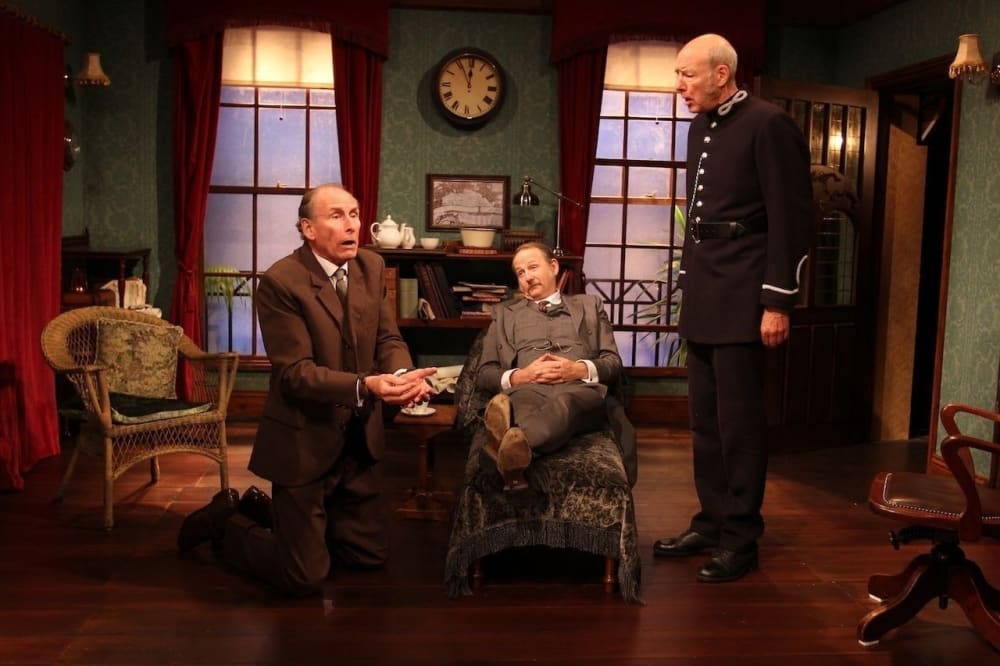 The Watermill Theatre undoubtedly has another hit on their hands with this impressive UK première production of Sherlock's Last Case.
Sir Arthur Conan Doyle's fictional detective Sherlock Holmes is perhaps one of the most famous and enduring of private investigators loved by millions across the world.
In Charles Marowitz's witty parody, Sherlock's Last Case, Holmes receives a mysterious letter from Simeon Moriarty, the apparent son of his arch enemy Professor Moriarty, accusing him of murdering his father and vows to seek his revenge.
When a memorial plaque is delivered bearing the date of Holmes's death, matters take on a more sinister twist.
An unexpected visit from Liza Moriarty, splendidly played by Victoria Grove, adds another layer of mystery as she implores Holmes not to challenge her twin brother.
The play particularly explores the personal relationship between Holmes and his loyal assistant Dr Watson and we discover some intriguing insights. But all is not as it appears with Watson's built up frustrations at his treatment by Holmes finally exploding in the most dramatic and sadistic way.
Alister Cameron, in a fine characterization as Inspector Lestrade, provides the steady but misguided hand of New Scotland Yard in trying to help solve the mystery.
To reveal what happens would spoil the experience of seeing the play but it has so many twists and turns that it will keep you guessing as you piece together the clues and is very funny.
Christopher Godwin is excellent as the acerbic, cold, intellectual eccentric sleuth Holmes who lives a Bohemian lifestyle. He is looked after by his long-suffering Scottish housekeeper Mrs Hudson, delightfully played by Alexandra Mathie.
Dr Watson is superbly performed by Adam Kotz; his change in personality as he seeks his revenge on Holmes is both startling and impressive.
Simon Kenny's stunningly stylish set perfectly captures the atmosphere of 221B Baker Street and delivers a few surprises, is beautifully lit by Richard Howard with an inspired sound design from Mic Pool.
Skillfully and astutely directed by Maria Aitken (who directed the international success The 39 Steps), this is an outstanding production. Highly recommended.
Reviewer: Robin Strapp