Shirley Valentine
Willy Russell
Adam Spiegel
New Victoria Theatre, Woking
–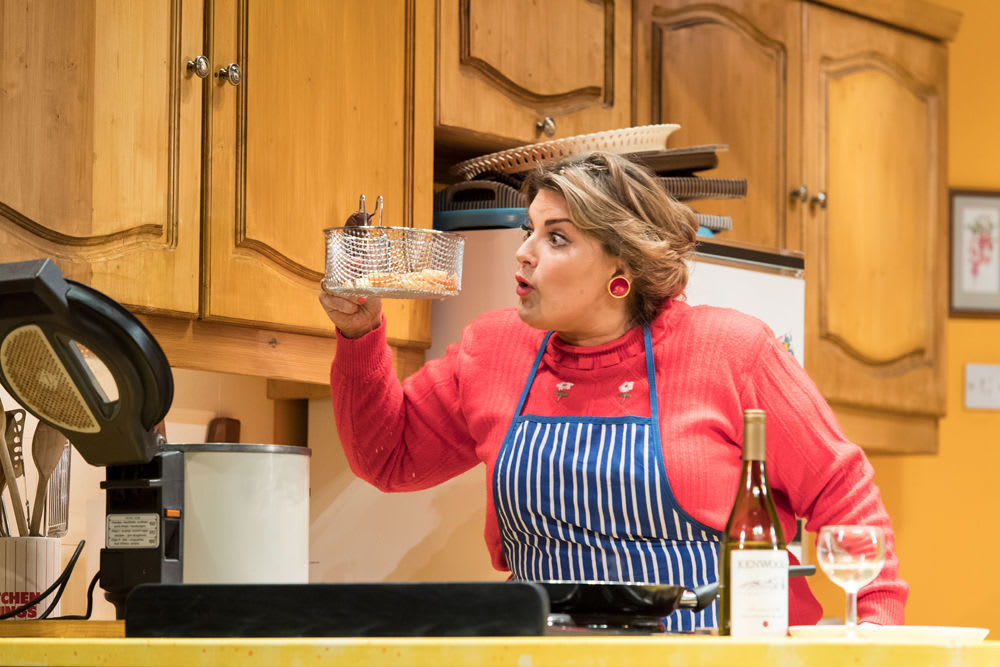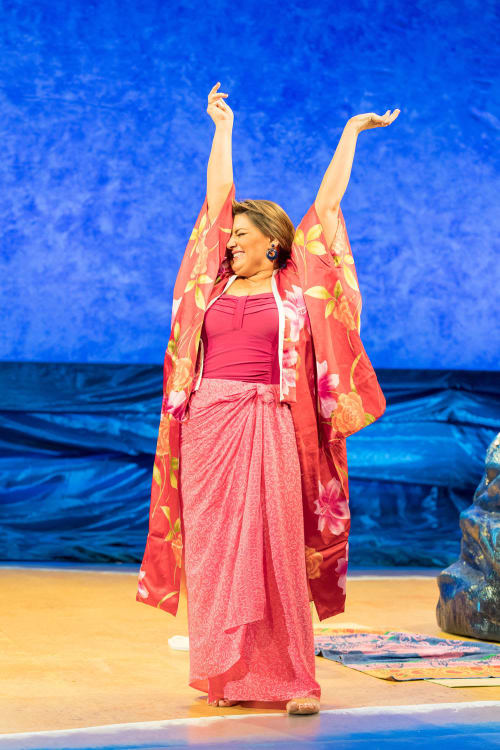 Beginning as a one-woman play which premièred in 1986, Shirley Valentine later became a hugely successful film with Pauline Collins and Tom Conti leading an all-star cast and peopled with all the characters only imagined in the stage version.
The play's thirtieth anniversary seemed an appropriate time for its first national tour, but finding an actress who could cope with the tremendous demands of this role was not going to be easy. However when producer Adam Spiegel introduced actress Jodie Prenger to Russell, he knew that he had found his Shirley.
A previously unknown Jodie is probably now best known for winning the role of Nancy through the television series I'd do Anything and Russell said, "I knew in an instant that here was a formidable actress who possessed the grit and the warmth, the drive and vulnerability, the energy and the heart to make Shirley Valentine really live again". He was not wrong!
We find Liverpool housewife Shirley in her kitchen cooking "chips and egg" for her husband's tea and, as she works, talking to the wall. This is what her life has become, restrictive and unsatisfying with a husband who gets in a strop if his meal isn't on the table the moment he comes in, although I have to stress she is not blaming him in any way.
Meeting an old school friend who says, "didn't you used to be Shirley Valentine," starts her thinking of how she used to be, full of life and spirit. Whatever happened to that girl? An escape beckons when her best friend buys them both a holiday in Greece. Is she brave enough to go? How can she tell her husband? She struggles for a long time with the decision then, with perfect comic timing, turns to the audience with "I still haven't told him", and off she goes.
In such a large and packed theatre, I felt at the beginning that some of the intimacy of Shirley's thoughts and dreams were a little lost, but that feeling soon disappeared and, as she drew us in with random memories, I was living with her every step of the way. There is a lot of laughter in this play (her memory of her son Billy's comments in his first Nativity play is a hoot) and some surprises too discovering that a very clever school friend is not an air hostess after all but travels the world in a completely different profession.
Prenger not only makes Shirley live, she also brings to life every other person she mentions in her ruminations, so very well portrayed that we can almost see them, and for around two hours she keeps us entranced.
Russell, having been brought up in a working class environment surrounded by the strong women of his family, seems to get into the hearts and minds of women everywhere—and his stint as a hairdresser must have helped too. Many secrets are revealed under the dryer!
This very realistic play, so exquisitely performed and presented, can make you laugh, can make you cry and can also make you think whatever happened to my life? The only thing missing is the sizzle of the fat as Shirley drops chips and eggs into the pans.
Reviewer: Sheila Connor