Shirley Valentine
Willy Russell
Octagon Theatre Bolton
Bolton Library and Museum
–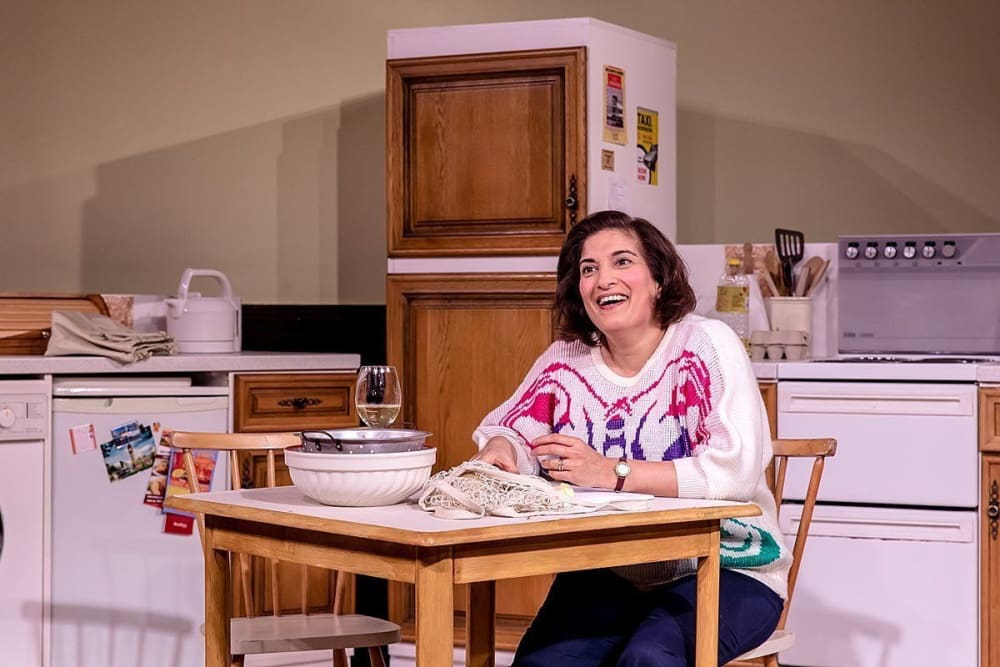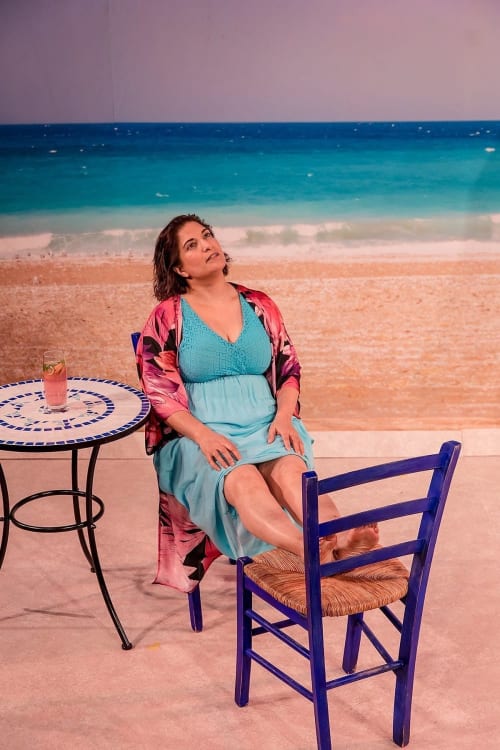 Although I've been a fan of Willy Russell's work for over thirty years, somehow I've managed to miss catching this particular play and haven't even seen the film, so I was keen to see Mina Anwar in a role that seemed perfectly suited to her from the roles I've seen her play on television.
There are major themes in this play that will be very familiar from the rest of Russell's work: it focuses on a working class married woman who feels trapped by the narrow expectations from her of others of her class, and not just from the men—she admits that her husband, Joe, is as much trapped in the role of a working class man as she is by her role. The most obvious parallel is with the title character in Educating Rita, but it could equally be compared to schoolgirl Carol in Our Day Out, amongst others.
Director Lotte Wakeham said she has set her production in Lancashire, not Liverpool, in 1991, five years after the play was written, but, other than Anwar's Accrington accent and a few changed place names, it works just like the original and the kitchen design by Su Newall could easily be from the '80s (although it's much nicer than ours was). It opens to the intro of '80s classic "Tainted Love" as covered by Soft Cell—"Sometimes I feel I've got to / Run away..."—which was reissued in 1991 but recorded ten years earlier.
Shirley Bradshaw is alone in her kitchen preparing egg and chips for her husband's tea (she actually prepares and cooks this meal on stage during the first scene) for when he gets home from work, as if his tea isn't on the table when he steps through the door then there'll be trouble. Her grown-up son and daughter—I would have been about their age when this play was written—don't treat her any better either. However her 'feminist' friend Jane has booked to go to Greece for a fortnight and has booked her a ticket too. Obviously she can't go, she tells the kitchen wall...
It isn't just Joe's reaction to being given egg and chips for his tea "after slaving away all day" that changes her mind; she has an encounter with a woman she used to pick on at school as a girl who asked her, "didn't you used to be Shirley Valentine?" While the woman was referring to Shirley's maiden name, it makes her wonder what did happen to that rebellious teenager, full of life and possibilities, who rejected tradition and authority. The rest of the play becomes her quest to try to rediscover Shirley Valentine; the perfect last line reveals whether she succeeds.
Like all of Russell's work, it deals intelligently with questions of class and gender roles, with people trying to break free of the bonds of other people's expectations to find a life that's right for them. He also creates real, believable and interesting working class characters with wit and intelligence and plays that are continuously hilarious without ever becoming crass or disrespecting the people he portrays.
Anwar suits the role as well as I thought she would but aside from her great portrayal of this well-known character, it shouldn't be underestimated just how demanding it is to hold an audience for two hours solid on your own. Even while operating an electric cooker and a deep-fat fryer, she makes it look effortless.
It's often said that there is a craving for pure entertainment with all of the depressing things we are being bombarded with in the news; this play is never less than entertaining, but it also provides plenty of food for thought (not just the egg and chips) about whether we are coasting along, doing only what others expect of us, or whether we could be living our lives better for ourselves.
Reviewer: David Chadderton