Shirley Valentine
Willy Russell
Lyric Theatre, Belfast
Lyric Theatre, Belfast
–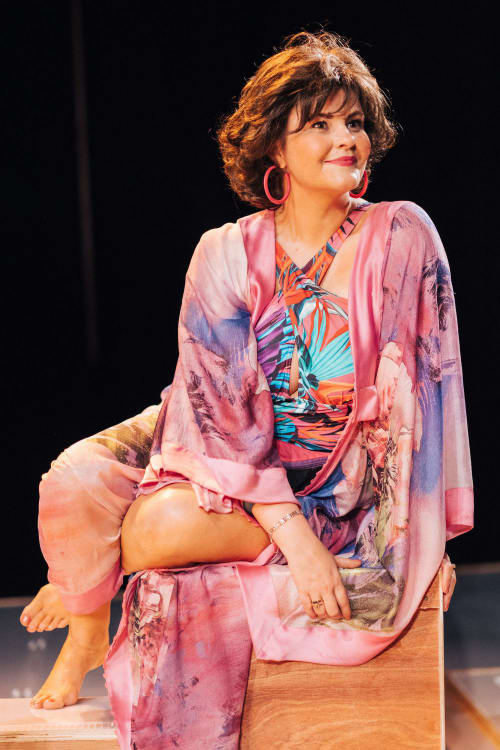 Life, it seems, begins at 42. At least it does for Shirley Valentine. Willy Russell's timeless tale of a housebound wife and mother of an empty nest casting off drab, domestic drudgery for a new life in sun-kissed Greece hit a nerve when it was first staged in 1986. It remains no less raw, and rousing, in this engaging revival at Belfast's Lyric Theatre.
Returning to her hometown theatre trailing new-found fame as Ma in Channel 4's hit comedy Derry Girls, Tara Lynne O'Neill proves a shrewd, savvy choice for the venue in a performance judiciously pitched between the archly theatrical and achingly humane.
Part intimate confessional, part suppressed cri de cœur, part gleefully indiscrete gossip, O'Neill's modestly unassuming raconteur slowly blossoms under the hot Mediterranean sun that bathes the second act into a winningly complex character study full of feisty charm, immense warmth, seductive wit and touching poignancy.
A consoling glass of Blue Nun always close to hand, chip pan constantly on the go and with tongue regularly in cheek, she bustles and breezes around Paul Keogan's not altogether convincing IKEA-lite set like a punch-drunk bee bouncing off a window pane with only her confining, scrupulously scrubbed kitchen walls to confide in.
And like the imposing ramparts of fabled Jericho, these walls also coming tumbling down, literally so when O'Neill casts them off their foundations to allow in the waiting world outside in the cleverly executed transformative moment that closes the first act.
Making a confident debut at the Lyric, director Patrick J O'Reilly keeps O'Neill in virtual constant motion early on, the set-piece telescoping of Shirley's tea-time cooking-and-cleaning duties treated to a deliciously throwaway dance routine.
Laced with appreciatively lapped-up local idioms and references, Oisín Kearney's adroit "script relocation" from Liverpool to Belfast lends extra bite and the occasional touch of brilliance to Russell's script.
But the night belongs to O'Neill in an opening delayed by the tragically sudden death of assistant director Julie Maxwell during the show's rehearsal period.
Immensely approachable and likable, O'Neill shifts on the turn of a sixpence from wicked self-deprecating humour to moving, self-aware honesty, from victim to victor, as she journeys from trapped, lost vulnerability to free-spirited confidence and self-asserted individuality. Infectiously "falling in love with the idea of living", she takes a more than willing audience along with her in a tonic for these bleak, autumnal Brexit days.
Reviewer: Michael Quinn