Shirleymander
Gregory Evans
The Playground Theatre
The Playground Theatre
–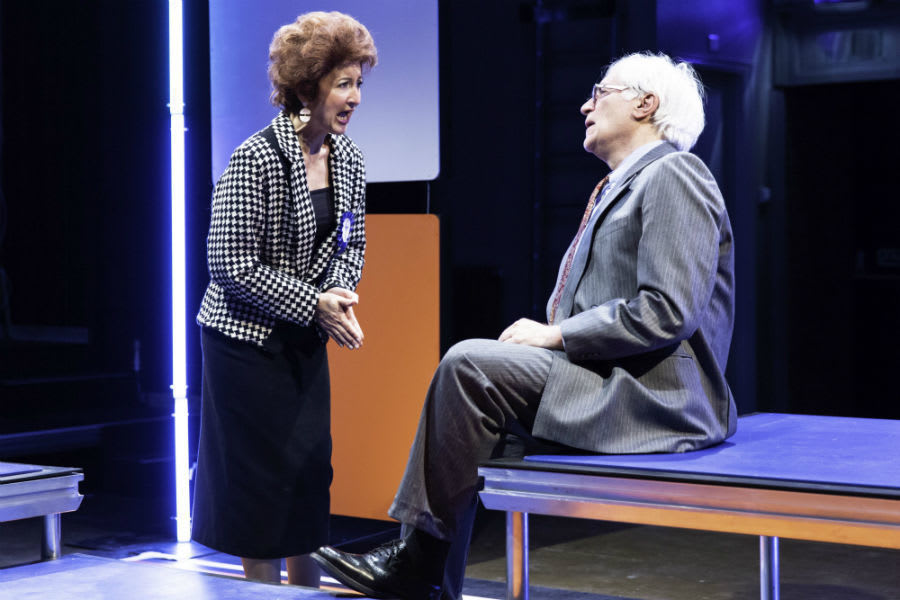 We will probably never know the extent of Shirley Porter's corruption as leader of Westminster City Council (WCC) but Gregory Evans's comedic depiction in Shirleymander is shocking enough.
We see her browbeating other Tories and council officials into selling off three cemeteries along with twelve acres of development land and various buildings at five pence a cemetery.
Having failed to get round to evicting a sitting tenant in one building by the time of the sale, they sweeten the deal with a payment of seventy thousand pounds to the buyer.
In response to the reservations of an official, Porter's deputy (Jack Klaff) says, "we are Tories. We sell things off."
The buyer re-sold the cemeteries for £1.25 million on the same day they were bought and others also made a profit, though not the WCC.
Jessica Martin gives a convincing naturalistic performance as Porter. There are no exaggerated gestures or raised voice. She doesn't even look like a force to reckon with but others fall into line.
There are even sympathetic moments when she is speaking with her confused husband in Palm Springs at the start of the show and later in a flashback to her childhood when she is helping her father bag raisins.
James Horne is also impressive as her father and as the district auditor unfazed by Porter's tricks.
Jack Klaff, always a watchable actor, does tend to play Porter's deputy with a slightly cartoonish excess as he insists they get rid of undesirables such as the Irish, the Bangladeshis and the Liverpudlians.
But the play could easily lend itself to a cartoon style given it never digs beneath the surface of its characters, preferring the story to be more of a dramatic illustration of what was rotten about these people.
However, it is that rottenness that grabs your attention and it's the reason most of the audience will be very glad they saw the show.
It's not just that we laugh at the stupidity of their criminality or that we hear about things we didn't know and should have known; it is because it resonates so much with today.
In 1986, Labour almost won Westminster and this prompts Porter to set up a secret group to implement the notorious Building Stable Communities policy, which consisted of "deporting" the poor, the disabled and the homeless from marginal wards and selling off council housing to Tory voters, what the district auditor later called an unlawful act of gerrymandering.
Anyone resisting her policy is threatened with the sack and a new compliant chair (a doctor) of the housing committee is appointed.
As other councils put pressure on the WCC to stop exporting people to them, Porter decides to dispose of the poor in tower blocks she knew were riddled with asbestos and should have been demolished years before.
An official is shown desperately trying to avoid being the person responsible for allocating families to a death-trap and being threatened with the sack if he refuses.
This is Shirley Porter's story but we do wonder why so many others went along with things that were illegal and morally indefensible.
The show ends with the sound of Prodigy's "Firestarter" as pictures of the burnt-out remains of nearby Grenfell tower are projected onto the walls of the set.
And you have to ask yourself if Shirley Porter was simply ahead of her time.
Reviewer: Keith Mckenna