Shooting With Light

Idle Motion
The Lowry
–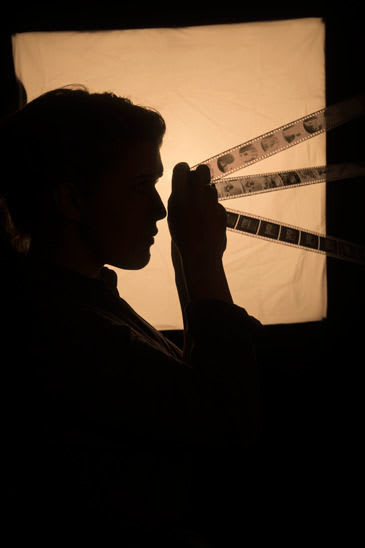 Have you ever heard of Gerda Taro? I hadn't either prior to Shooting With Light—and this fantastic piece of studio theatre has certainly made me want to learn more about an incredible woman.
Devised around the events of her life by five-strong troupe Idle Motion, Shooting With Light recounts the story of Gerda Taro's relationship with photographer Andre Friedman alongside the development of her own career as a photojournalist during the Spanish Civil War.
Interwoven with Gerda's story is a secondary plot set decades later, as Andre's brother Cornell attempts to track down a suitcase containing Andre's mysterious lost film. The piece moves swiftly back and forth between the two threads, its short scenes cleverly cut together using movement sequences and repeated static poses.
The set is minimal, with a large, white, grid-patterned screen forming the only backdrop. Sections of this grid open to form doorways, partitions in public telephone booths and windows for Gerda and her friend to smoke at. Large white boxes function as cafe tables, cinema seats and darkroom worktops.
The sound and lighting design for this production (by Chris Bartholomew and Greg Cebula respectively) is truly exceptional. Combined with dynamic physical choreography, Idle Motion creates the illusion of battlefields, bombing raids and protests with extraordinary effectiveness considering there are only five performers.
Uplighting casts long, menacing shadows onto the back wall, deafening explosions seem to vibrate through the space as the performers collapse to the floor and Gerda's camera flashes punctuate phases of frantic movement as her photos appear on the backdrop.
Crucially for a piece that is as much a tribute to photography as it is to a photographer, Gerda's work is allowed to speak for itself—when her harrowing images of war casualties are projected onto the screen, there is little in the way of effects to detract from them.
In spite of its historical setting and political content, Shooting With Light doesn't overload its audience with unnecessary context, though at times the dialogue lacks a certain degree of period authenticity. Frequent references are made to Andre and Gerda's outsider status in the English and American-dominated world of the press, yet the performers in these roles do not attempt European accents. (Though arguably this is preferable to accents done badly.)
The piece concludes with Gerda's death on the front line and the finding of the lost film, both of which are genuinely moving. Gerda's passion for justice and communicating the truth—in addition to her pioneering bravery and independence—make for a truly compelling portrait, while the discovery that Andre's lost film is in fact Gerda's work means that justice is restored and Cornell's mission is complete.
As the final lines of Shooting With Light observe, photography is a way of capturing history and bringing light into darkness. Idle Motion prove themselves to be just the company for the job, bringing Gerda Taro's unique and long-neglected story to light in a brilliant and imaginative way.
Reviewer: Georgina Wells