On the Shore of the Wide World
Simon Stephens
A co-production with the National Theatre
Royal Exchange Theatre, Manchester
(2005)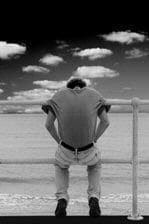 Playwright Simon Stephens has had plenty of success in London at theatres such as The Bush and The Royal Court since moving away from his home town of Stockport. However his work with the Royal Exchange in Manchester has tempted him to return to his roots as a subject for his writing, first with last year's Port and now with the Royal Exchange's latest main house production, On the Shore of the Wide World.
The play focuses on three generations of the Holmes family, particularly on the father-son relationships between Peter, his sons Alex and Christopher, and his father Charlie. It also keeps coming back to what could have been if decisions had been made differently; not just at how things could have been better, such as avoidance of the tragic accident in the first half of the play, but also how things could have been spoiled, such as when two different characters when asked whether they have had an affair both answered, "I could have, but I didn't". There is also a hope that things improve across the generations, such as Charlie's theory that each of them has been a better father to their son than their father was to them, and how later generations try to grasp opportunities that their father was afraid to take.
The play has some really nice moments, some funny and some genuinely moving, but as a whole it seems to take a long time to say very little. There is plenty of good material here, but there are times when the pace drops and by the middle of the second half it seems to have run out of steam. Although the play is acted out over a huge aerial photograph of Stockport, the town is not important to the play and could have been set anywhere with only minor changes to the script (I'm not sure where the poster photograph was taken, but there is no sea front in Stockport).
There are some excellent performances from the actors. Carla Henry is superb as Alex's girlfriend Sarah; her attitude and accent as a gormless teenage girl from Manchester is spot on, and is funny without being overplayed. As the three male generations, David Hargreaves as Charlie and Thomas Morrison as Alex both produce very good performances, and Nicholas Gleaves is particularly strong as Peter. There is also some very good support from Eileen O'Brien as Charlie's wife Ellen and Siobhan Finneran as Peter's wife Alice.
This play has some excellent parts that are funny or thought-provoking or both. However it does not seem to have the 'legs' to carry it through its three-hour running time. Whether this is due principally to the play or the production is difficult to establish from a single viewing.
"On the Shore of the Wide World" runs until 14th May, then transfers to the Cottesloe at the National
Philip Fisher reviewed this production when it transferred to the National Theatre
Reviewer: David Chadderton