Shout!
Based on a concept by Philip George and David Lowenstein
Theatre Royal, Newcastle, and touring
(2008)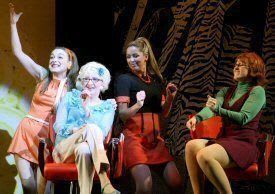 This is a musical really worth shouting about a rousing, feelgood, swinging 60s trip down memory lane.
I can honestly say Shout! is a singing sensation, a real knock-your-socks-off kind of experience. And last night's crowd, mainly women and a fair few of them baby boomers, absolutely loved it.
The concept is simple, it basically tells the tale of three Northern lasses destined for the Big Smoke, their lives played out through the swinging sixties against a backdrop of 31 hits, featuring the likes of Downtown, Son of a Preacher Man, Big Spender and Alfie, to name a few.
It helps when you have such a terrific tight-knit cast, led by the superb Claire Sweeney as Ruby, Donna Steele as Georgina and Shona White as Betty. They meet up in London with Ruby's dotty but lovable Auntie Von, played by Su Pollard.
Pollard, who must surely be classed as a national treasure these days, is an absolute revelation! All attempts to try to guess her age were deemed irrelevant when you see a knockout performance such as this She doesn't miss a beat throughout the entire show, her timing and musicality is spot-on, and as for her singing voice Well, let's just say, hearing is believing - it is that good, seemingly coming from her boots.
Claire Sweeney is, as you'd expect from all her TV and West End experience, a complete professional, a genuine all-rounder, and makes for a very strong lead.
The supporting cast too are hugely entertaining, and not forgetting the 'token man,' played very tongue-in-cheek by Mark McGee. He takes on a variety of guises, playing everyone from Tony, the editor of Shout! magazine, dispensing bite-size nuggets of advice from the pages of his mag, to a Spanish waiter to the charming urbane chap in a nightclub (until he opens his mouth, that is).
The girls twist and shout their way around swinging London, as they revel in the fashion, freedom, fun and music that inspired original girl power.
Shout!, which is destined for the West End, is coming to the end of a nine-month tour and is as polished as can be.
This uplifting musical is by the producers of smash hits Fame, Saturday Night Fever and Footloose, and would seem to have some longevity.
The small but perfectly-formed cast, just seven of them in total, are perfectly in time and never put a foot wrong all night long. And they look like they're having an absolute ball too, which seemed to sum up the mood of the crowd, who were on their feet at the end for a standing ovation.
Rachel Sheridan reviewed the West End transfer at the Arts Theatre
Reviewer: Katharine Capocci