Shout!
Based on a concept by Phillip George and David Lowenstein
Mark Goucher Limited
Arts Theatre
(2009)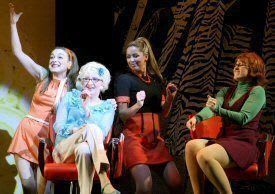 With shows like Wicked and Hairspray still playing to sell out crowds and new musical Priscilla Queen of the Desert just opening with Sister Act hot on its heels the sixties based musical Shout! certainly has some tough competition on its hands.
Although a show on a much smaller scale (and budget) than the afore-mentioned musicals, Shout! is more than capable of holding its own. The poster pretty much says it all and it's nothing more or less than exactly what you would expect. It's fun and cheesy and packed full of songs from the swinging sixties.
Three girls travel from the north of England to London to stay with wacky Aunt Yvonne (Su Pollard) and we follow them through the decade that invented the word teenager, introduced girls to the contraceptive pill and of course there was the arrival of the Beatles. Narrated by the voice of Shout magazine and a soundtrack of favourites including "Downtown", "Bobby's Girl", "I Just Don't Know What To Do With Myself", "Shout" and many more there is a song for everyone. However as you would expect, all of this is strung together by a fairly weak plot.
The intricacies of the plot (or lack of) are immaterial as this show is designed to have the audience up on its feet, clapping along and this is exactly what it achieves. The performance style is anything but subtle as the cast relish the naff gags and Su Pollard, who has made a career out of overacting, doesn't disappoint us now and hams it up a treat.
Shout! is playful and light-hearted and will have even your most cynical audience member tapping their feet against their better judgement. Is it the "grooviest show in town" as the programme promises? Probably not, but here's "wishin' and hoping" it does better than the Arts Theatre's recent offerings as it's definitely worth taking a trip down memory lane, after all "these boots are made for walking"!
Katharine Capocci reviewed the pre-West End tour in Newcastle
Reviewer: Rachel Sheridan