Show 6
Mark Ravenhill
Lyric Hammersmith's Secret Theatre Company
Summerhall @ Roundabout
–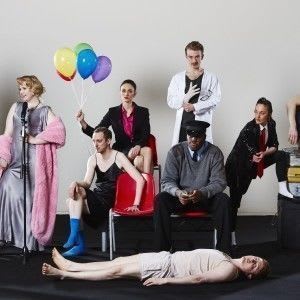 According to the publicity, "the Secret Theatre Company is a 20 strong ensemble of actors, writers, directors and designers created to challenge the way theatre is produced and presented in Britain".
Number 6 in the series of unnamed productions from this Lyric Hammersmith project is written by Mark Ravenhill and performed by a trio of actors, the two girls wearing bathing suits and the boy wearing shiny shorts (I'm not sure why).
The first striking feature is the language. All of their sentences are very broken up, but they are not delivered in the hyper-real, stop-start way of, say, Mamet but half sentences are delivered as though they are complete. This gives the dialogue an unnatural feel throughout, but there are links with a theme of loss of language or vocabulary.
It turns out that, while he was "monged" the previous night, the boy "hit a chav". It appears we are in a different society or era, when such things are a sport of the rich, however this time it is different as this event seems to reveal that their lives are lies, and history has been changed to hide some kind of revolution.
The question is, do these privileged kids give up their luxurious lifestyles to search for the truth? Or is it all a drug-fuelled fantasy after all?
While the script is obviously written by an experienced playwright, there is nothing original or particularly interesting about the subject. It's the sort of plot a student group may create thinking that deliberate obscurity combined with distopian fantasy is new and innovative rather than age-old and not especially interesting.
There are very good, committted performances from the three actors and tight pace in the direction, but the play didn't really have anything new or interesting to say to me.
Reviewer: David Chadderton