Showstopper! The Improvised Musical

The Showstoppers- Something for the weekend
Gilded Balloon
–

Listing details and ticket info...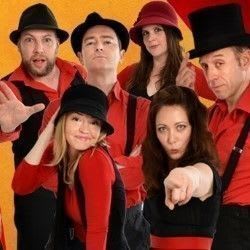 The mighty Showstoppers return to Edinburgh this year with their usual amount of quick wit, boundless amount of energy and vast imagination.
The concept is simple: it is an entirely improvised musical with live band, talented ensemble and an MC who is the conduit between cast and audience.
Over the years, many theories have been proffered as to how the show works, but, as this is long form improvisation, the results are due to talent, teamwork and knowledge of the genre. There are no tricks or pre-written scripts and, with the suggestions from the audience, at the performance I watched there's no way there could be.
Set in the Vatican, Genuflect! The Musical was a tale of love and intrigue in the style of Les Miserables, Chicago, the music of Danny Elfman and that of Tim Minchin too.
With a steamy opening number entitled "Vatican City", the cast were off painting a vibrant community behind the doors of the papal palace. With sexy nuns, an ambitious cardinal, the head of PR and even God himself, the plot unfolded (with interjections from MC Dylan Emery checking that the Catholics in the audience weren't offended) at speed.
What followed was hilarious, cheeky, romantic and above all lyrical. The final number with chorus "Genuflect, Genuflect, show the Pope some f*cking respect" had everyone clapping and singing along, ending the show on a comedic high.
Showstoppers is a perfect example of skill and talent combined and they continue to amaze audiences conjuring complicated lyrics and plotlines from nowhere.
Reviewer: Amy Yorston