Showstopper! The Improvised Musical
The Showstoppers/Something for the Weekend
Showstopper
Pleasance Courtyard
–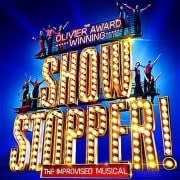 Playing to a capacity audience at the Pleasance Grand, Showstoppers: The Musical delivers a highly entertaining evening of crazy fun. This multi-award-winning troupe perform a new improvised musical every night with amazing dexterity and skill.
The concept is simple. A telephone call from Cameron sends director Dylan Emery into a spin as he has to create a brand new show within 70 minutes. The problem is, he has run of ideas. He seeks the help of the audience who eagerly suggest topics and we vote on the best one. In this case, it was "a lighthouse in Ireland" with the title of Lights Out—you can somewhat guess where this might be going.
Next, we have to choose the musical style that they will use. These included generic pop songs, Sondheim, Hades Town and War of the Worlds.
Unsurprisingly, this highly creative talented cast rise to the occasion with aplomb. With Irish dancing and accents, they burst onto the stage to perform this story of regret, love and a stranger called Raymond Briggs who rents the lighthouse's Air B&B. He is on a mission to discover why his family perished in the sea.
With songs made up on the spot with titles such as "At The End Of The World Is Mystery" and "What Are You Going To Do When The Ship Goes Down" it's a whirlwind evening of comedy invention filled with hilarious one-liners and absurd choreography.
Special mention to the fabulous three-piece band. A perfect way to end your evening and every show is different.
Reviewer: Robin Strapp