Showtime From The Frontline
Mark Thomas
Akin McCarthy in association with Theatre Royal Stratford East
Theatre Royal, Stratford East
–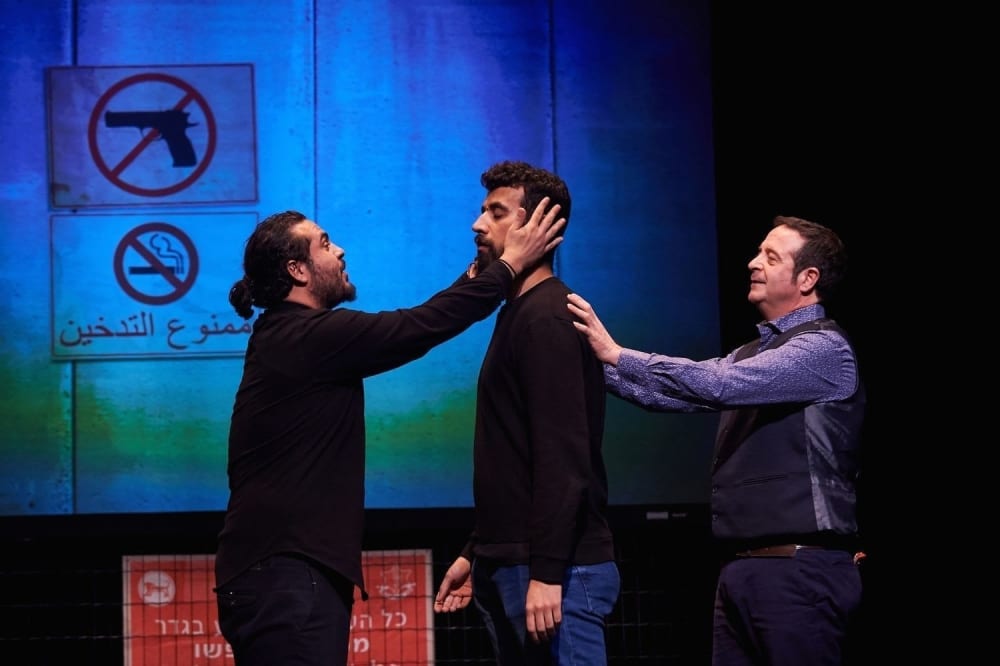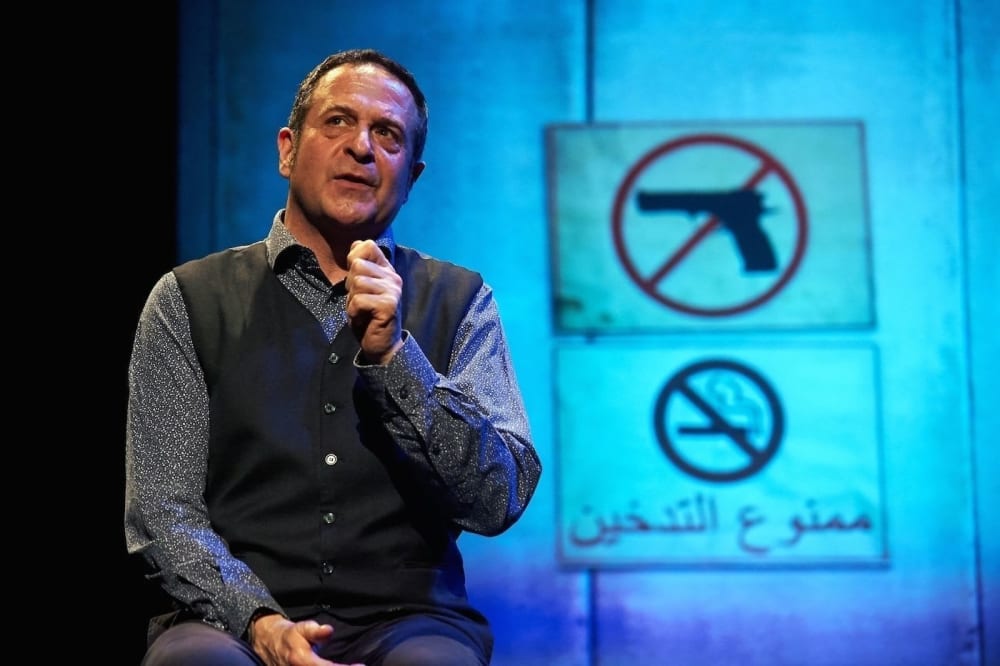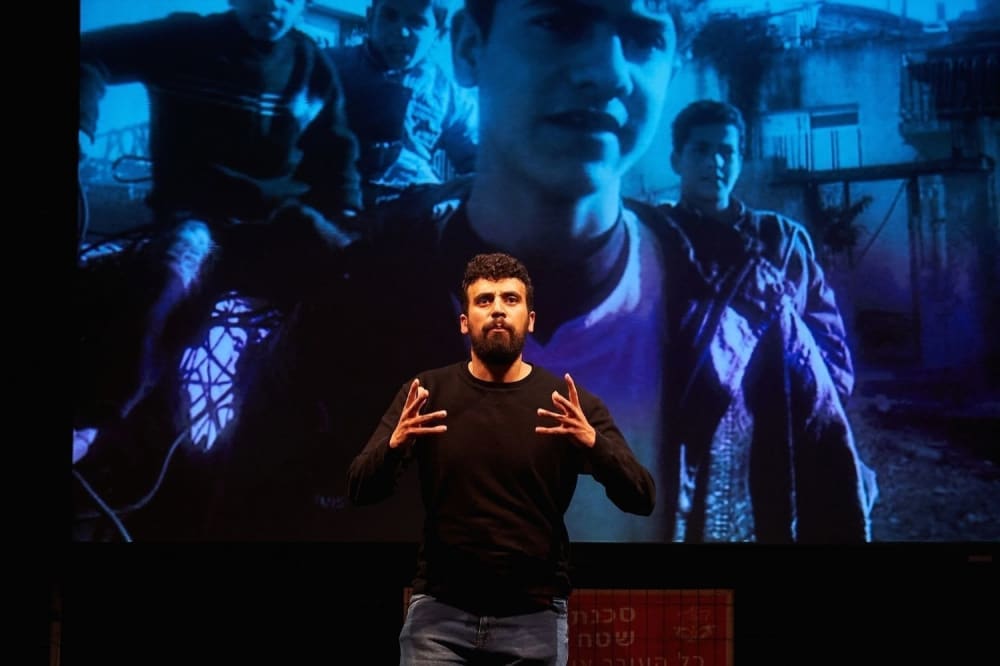 In 2009 Mark Thomas, comedian and satirist, walked the whole 723 kilometre length of the wall that Israel built to shut out the Palestinians. He then wrote a book about doing so that he called Extreme Rambling.
It was when he was invited to give some readings from it at a West Bank bookshop in 2014 (like St Paul, as it were, on the road to Damascus) that he had the wild idea of starting a comedy club in Gaza. He was talked out of that but did go ahead with the idea in Jenin, a town where there is even a theatre: a theatre in a refugee camp.
But a comedy night needs comedians so they would need training, so with the help of fellow performer and teacher Sam Beale he began comedy workshops in Jenin.
This is the story of that project played out by Thomas and two of his protégé pupils, Faisal Abu Alhayjaa and Alaa Shehada, with the on-film contribution of others from the workshops.
It is both fraught and very funny as Thomas tells it and the two Palestinians go through the exercises to explore their comedic skills against a background of tension that runs parallel with the warmth and the joy that coexists with it.
Where the keys on the arch that leads into the camp represent the keys to their homes that refugees brought with them when they were forced to leave Haifa in 1948, where Julian Mer-Khamis, founder of the camp's Freedom Theatre, was shot right outside; where checkpoints and curfews, arrests and hunger strikes are what you live with; where male Palestinians have a one-in-three chance of ending up in an Israeli jail under martial law where there is no jury and the conviction rate over 99%.
The constraints aren't all Israeli: the Freedom Theatre has a roof that is ideal for sunbathing, but you can only sunbathe fully clothed. On hearing that, Sam Beale declared it wouldn't be a problem, she'd bring her see-through burka!
The Freedom Theatre Committee is pretty controlling too: the second half of the show opens with their reaction to the comedy club night. Faisal and Alaa perform items from the own acts and those of some of their colleagues and there are video clips of others, shot in live performance, Saja (unmarried manager of a women's hostel) who's search for her dream man lands on a Korean rap singer.
Alaa, whose mum is always asking if he has found a wife yet, says he gets very annoyed when he sees a female Israeli soldier—because it makes him want to get arrested—but he claims his material is based on village life, not bombs, demonstrations and shootings but it is Alaa who has problems when he comes to the UK. Due to report to a police station after arrival in Britain, he finds it closed, when they eventually find one—but go along; they'll tell the story better than I can.
Although drawing almost non-stop laughter, this is also a snapshot of what life is like and frequently poignant too, like the moment when, as a lively young lad appears talking to camera in a film shot by Mer-Khamis during the first Intifada, Faisal says that is his cousin, then tells us he is dead now.
Reviewer: Howard Loxton