Shrek the Musical
Book and lyrics by David Lindsay-Abaire, music by Jeanine Tesori
Palace Theatre
–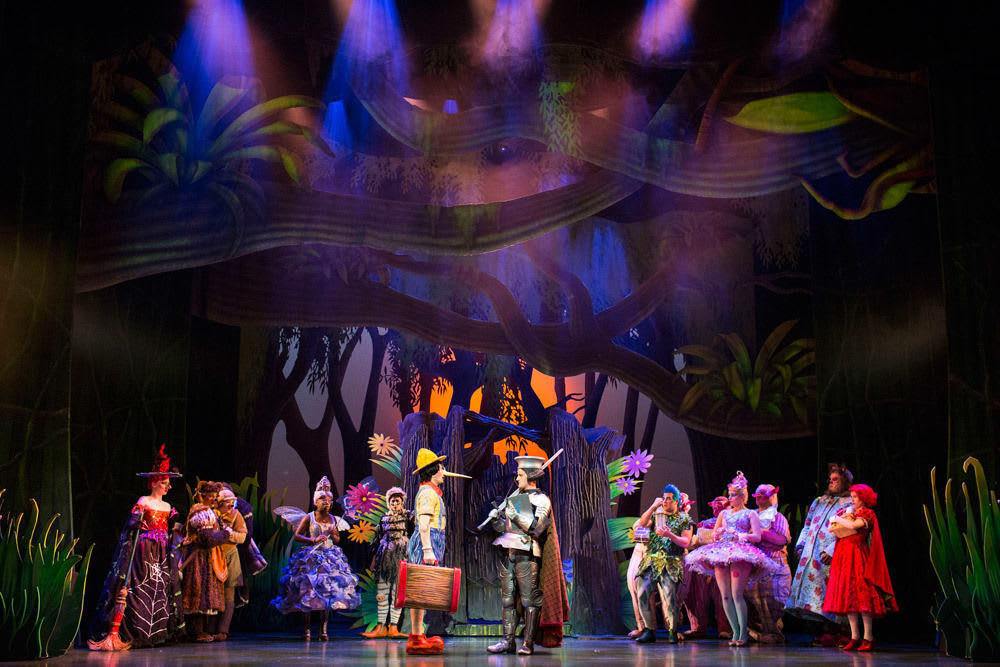 Shrek the Musical returns to Manchester for the third time in four years, with original venue the Palace Theatre as its home for this run. The show has had some updates since 2014, but the basics inspired by the Dreamworks movie remain the same: bright green ogre ends up on a quest to rescue a princess from a dragon-guarded castle, accompanied by a talkative donkey, resulting in an unlikely love story and a lot of fairytale fun.
The show's opening sequence, which summarises the events of Shrek's childhood, still uses a giant storybook prop as a tie-in to the film, but has had a technical upgrade. Instead of performers standing in and moving around an empty page formed by a physical frame, text and illustrations are projected onto a blank screen and combined with the performers' movements.
Unfortunately, this technology caused a brief show stop on the night, and in general the technical side didn't run as smoothly as one might expect from a big budget musical, with delayed lighting cues, imbalanced sound and curtains that had to be held shut by the actors at times. Hopefully this will improve as the run progresses.
There is of course a new cast, who seem a touch under-rehearsed (on press night at least). Steffan Harri puts in a lovely vocal performance as the lead ogre, but it is Samuel Holmes who steals the show as diminutive villain Lord Farquaad. His facial expressions, comic timing and cheeky asides are a deserved hit with the audience. Another change: his motorised horse is now called Brexit.
Laura Main offers a very different portrayal of heroine Princess Fiona, and it isn't one that works for me. Rather than offering the 'bipolar' contrast between saccharine princess and burping, farting ogre—the basis of Fiona's appeal—she is goofy throughout, with awkwardly exaggerated mannerisms and vocal delivery.
The biggest change to any of the musical numbers is the princess's mock-Disney lament for a prince to rescue her, "I Know It's Today". Previously, this was performed by child, teenage and adult Fionas onstage at once—a visual reminder of how long the character has been in captivity, which gave an otherwise comical song some poignancy. Now it's an Avenue Q style number with puppets, which does not have the same impact.
By and large, though, the musical numbers really are a strong point in this show. From the catchy and uplifting "Freak Flag", to the dragon's showstopping anthem "Forever" and Farquaad's showbiz number, "What's Up, Duloc?", they are catchy and uplifting.
The colourful clutch of fairytale characters give extra life and humour to the story, with their modern quest to find and accept their real identities, and it's good to see that their scenes have remained unchanged.
Shrek the Musical is still a fun and entertaining show that shouldn't be taken too seriously, but any audience members repeating a trip from previous years may be slightly disappointed with this incarnation.
Reviewer: Georgina Wells