Shrek The Musical
David Lindsay-Abaire from William Steig, music by Jeanine Tesori
Dreamworks Theatricals
The Lyric, Theatre Royal Plymouth
–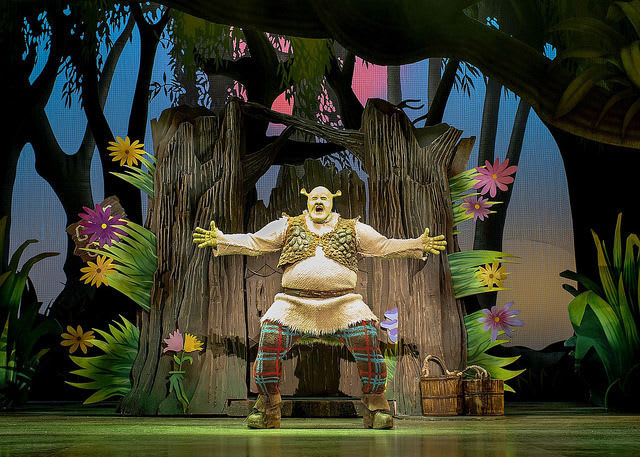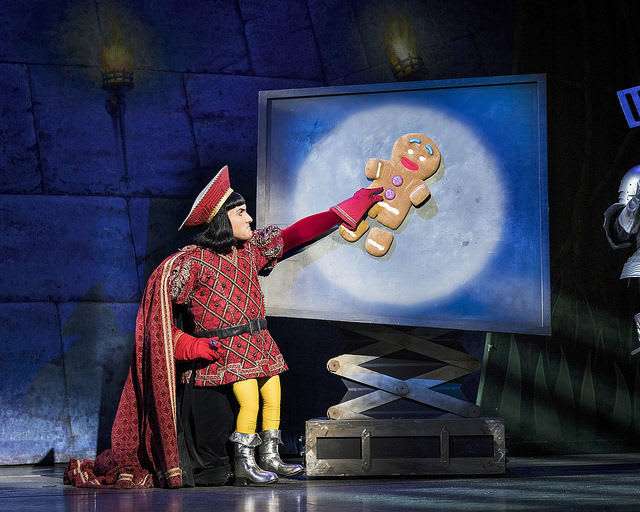 Slick, quick and great fun.
Yet another box office hit has successfully made the transition from celluloid to stage as a musical with Dreamworks' family favourite carefully pared back by Pulitzer Prize-winning David Lindsay-Abaire and a sadly underwhelming score added by Jeanine Tesori.
Now some 10 years old, Shrek the Musical is still worth a watch for young and young-at-heart alike. There's much to amuse with plenty of slapstick and visuals but with an added sprinkling of very subtle adult humour.
Tim Hatley's vibrant set slickly slides and flies to move the episodic piece from swamp to castle, dragon's lair to city with a lot of countryside and sunsets in between as the quest for happy ever after unfolds. As required, Hugh Vanstone's lighting design is garish or atmospheric while Hatley is also responsible for the multitude of colourful and versatile costuming as well as puppetry with the Gingerbread Man particularly inventive, exploding bluebird popular and the Dragon impressive.
An unnecessary stumble through the back-story of our heroes' abandonments stalls the start but the action quickly gathers pace as myriad fairytale characters are banished to the bog so prompting the incumbent green ogre's (a well-measured Steffan Harri) quest for peace and quiet. And to hammer home the beauty-is-only-skin-deep-and-what-matters-is-what's-inside message, mostly successfully.
The affable, despite his halitosis and nasty habits, monster collects and can't shake off the garrulous and irrepressible donkey (Marcus Ayton making a good hoof of the iconic Eddie Murphy part in a hairy onesie) en route to rescue the imprisoned princess on behalf of the conceited, cowardly and rather camp Lord Farquaad (a bang on point (and knees) Samuel Holmes) whose charm is in somewhat short supply. The quick-changing Laura Main walks an impressive line between manic and endearing, tomboyish and idealistic as Princess Fiona with the flatulence-filled duet "I Think I Got You Beat" with Shrek an absolute highlight.
But it is the ensemble that steals the show. Storybook stalwarts (Pinoccchio, Peter Pan, Three Bears, Pigs and Mice etc) rub shoulders and share high kicks with chainmail-clad soldiers, knights of the realm, doll-like citizens, rats and more. Delightful.
But oh for a more memorable score. Instantly forgettable songs are played with great gusto by the live orchestra under the baton of musical director Colm O'Regan but none stick in the memory save for the grand finale Monkeys '60s' classic "I'm A Believer" which brings down the house... and the curtain.
My seven-year-old companion loved every minute as did my silver-haired neighbour. A real pleaser—but musically disappointing.
Reviewer: Karen Bussell