The Taming of the Shrew
William Shakespeare
Wilton's Music Hall
(2007)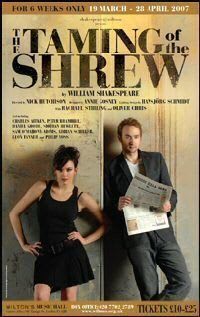 Back in 1978 at Stratford, Paola Dionisotti's scornful Katherine became the first ever to tame her shrewish lover Petruchio (Jonathan Pryce, as it happens), instead of the other way around, giving a closing speech of such playful but withering irony that it turned the tables on Shakespeare's misogynistic plot.
Three decades later Rachael Stirling's brilliant performance goes even further, also revealing Kate as a sweetly reasonable, strongly intelligent girl, almost indifferent to Oliver Chris's bullying tactics. Fashionably dressed in designer clothes and with a voice of pure honey, she makes a wealthy catch for any man. Indeed were the Paduan guys not so overtly camp one would have expected them to vie for this Kate's hand in marriage instead of shrugging off the prospect with dark warnings to Petruchio.
So how did she gain her shrewish reputation? Nick Hutchison's production aims to explore the passions that lie beneath the surface, and it soon becomes clear that her venom is wholly directed at her younger sister, their father's favourite daughter. And when these two are alone Kate's jealousy erupts as she painfully drags Siobhan Hewlett's Bianca by her blonde ponytail down a short flight of steps for a mouthful of verbal abuse.
The Wilton's proscenium has a newly-painted front cloth in sepia on cream linen, celebrating the venue's Music Hall heyday, with a Lautrec-style impression of top-hatted gents silhouetted against a variety performance in progress.
Nick Hutchison makes good use of this handsome tab as backdrop to an opening music hall presentation, with a white-whiskered MC announcing the evening's show while Hewlett's leggy soubrette in satin basque and fishnets offers us the Shrew playbill on an easel. But the moment is short-lived.
Thanks to a partial restoration of the Christopher Sly framing story, Oliver Chris — a tall but bearded Prince Wills lookalike — makes his first and noisy entrance through the auditorium as the drunken, dissolute lout, hurling ice-cream tubs at a terrified usherette, then collapsing in a stupor on stage before being coaxed into lordly undress and the opportunity to take over the leading male role in a play within the play.
Although the production is set on three levels with a false-windowed balcony above, Hutchison's direction largely relies on static groupings. Instead he gives emphasis to costume, expressive attitude — notably so in the case of Adrian Schiller's put-upon servant Grumio — and above all the clearly spoken word, no bad thing in this era of mumbled 'naturalism.'
Without checking against the text, there seems less repetition than the usual in the boorish honeymoon sequence as Petruchio pretends to 'protect' his new bride from badly-cooked food, a flattering fedora or 'poorly-cut' clothes — in this case a superb black ball gown that presumably earned John Galliano his special programme credit.
Philip Voss, who last appeared on this stage in January as the ageing professorial husband to Rachael Stirling's Yelena in Uncle Vanya, now plays her father, a gleeful, conspiring Baptista, clasping his hands in joy as he finally marries off Kate and looks forward to a bit of peace and quiet in the Minola household.
There are also strong performances by veteran actors Ciaran McIntyre and Leon Tanner as, respectively, the false and true fathers of Charles Aitken's Lucentio, who himself is disguised as a tutor snuggling up to the delectable Bianca. And the evening ends happily with Bianca's wedding feast as the surprised but delighted Kate, having delivered her big speech, is carried off over Petruchio's shoulder, leaving the rest of the company on stage as if posing for a gobsmacked group photograph
Before closing this review I should perhaps mention a minor logistic disaster affecting the Wilton's seating arrangement. My guess is that the local authority insisted on interlocking chairs, but the ones installed, perhaps designed for school hall use, are so narrow that one is forced to sit bum to bum.
At both the recent Vanya and this Shrew I found myself almost pushed into the aisle by the person sitting next to me — squatting on two-thirds of my seat, next to a slender lady who was presumably also being pushed sideways.
One of our leading critics recently emailed me to say that given the discomfort he will no longer be reviewing shows at Wilton's for his Sunday paper slot. So please will some generous sponsor check out the problem and devise a suitable solution in the shape of more commodious chairs?
Reviewer: John Thaxter