Side Effects
Devised by the Company
dANTE or diE
Rich Mix
(2011)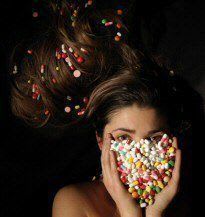 This dance work, developed from a twenty-minute piece seen at the ROH Linbury Theatre last year in collaboration with The School of Pharmacy, begins with members of the audience being given three or four different coloured pills in one of those little plastic pots they use to hand out medication in hospitals. This is a performance that sets out to make us think about just how many pills we take - it has been estimated that the average persons pops 14,000 of them in their lifetime - and the effects they have on us.
With an intermittent score by Yaniv Fridel that is full of sounds and rhythms that remind one of medical ventilators, heart pumps and pulse rates and a text spoken by the dancers made up of the names of drugs, the size of the dose in milligrams and the condition being treated, you are left in no doubt of the subject. Against black drapes, Jenny Hayton's set takes the form of a ground cloth on which the plan of an apartment is mapped out, complete with its basic furniture, and we watch the lives of the family that lives there: a middle-aged couple, their daughter and her boyfriend.
Side Effects begins with the husband having a sleepless night and taking sleeping pills; 'Insomnia, temazapam,' he repeats each time he wakes. Pills to go to sleep and pills to wake up, for blood pressure and blood clots, for hair loss and headaches, hangovers, hay fever, hot flushes and hemorrhoids, for coughs, cholesterol and cramps, diuretic pills, indigestion pills, treatments for asthma and rhinitis, creams and salves for everything from skin conditions to pubic lice.
We follow the family through the day, waking washing, eating, travelling. There are sneezes on the underground, a row of people pushing each other like a row of dominoes and passing on infections, and then, with variation, another day and another. Some things are generational, some apply to everyone.
It is lively and nicely patterned, each item in the catalogue of ailments matched by gesture that fits each ailment, ache or their location. These people also interact with movement that expresses affection, sympathy and understanding. We don't even get into the abuse of drugs but there is quite enough to make you think about our reliance on pills and potions. Wonders of modern medicine they may be, but what are the side effects, and what is our dependence doing to us psychologically quite apart from recreational and mood altering drugs, alcohol and nicotine?
The issues may be very serious and the characters' conditions range from the boyfriend's memories of childhood illness to the grandmother's heart attack but I should emphasise that the performance is very entertaining. There is nothing heavy going about it and has episodes of humour, especially the husband pumping up with muscle-increase steroids to amplify his efforts at the gym ('Testoviron: I love it!") and the daughter on the contraceptive pill peaking in erotic excitement (as she and her partner cry 'Mmmm Microgynon')
The choreography is mainly small scale making use of natural movement rather than formal dance steps but the shapes and patterns created by performers, Simon Rice, Antigone Avdi, Betsy Field, Laure Bachelot and Terry O'Donovan with movement director Nicky Ellis and director Dapha Attias are interesting and attractive. Side Effects is a work that lies in that area between dance and physical theatre but its thinking and execution mark it as a dance piece.
Ended at Rich Mix but it can be seen on 1st March 2011 at Laban and other performances are to be announced.
Reviewer: Howard Loxton