Sidney's Fox's Crime
Glenn Chandler
Boys of the Empire
Above the Stag Theatre
–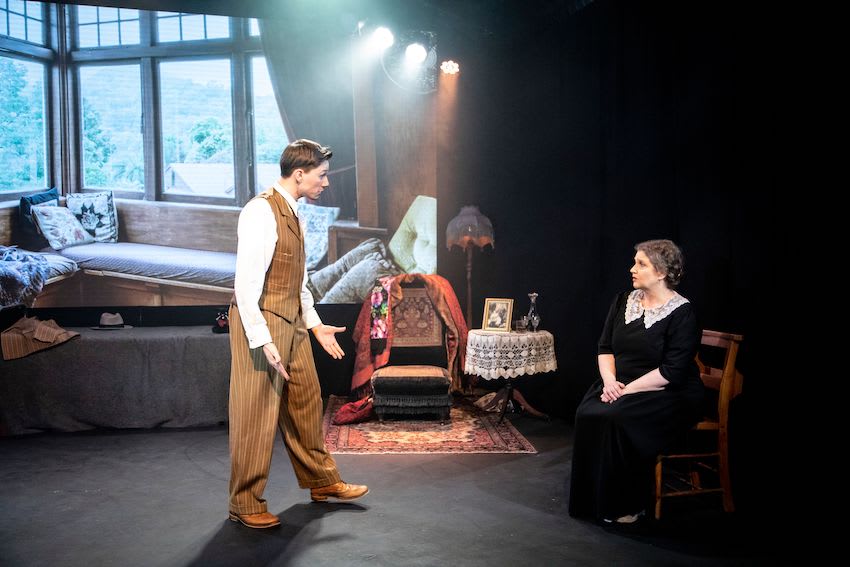 In April 1930, 31-year old Sidney Harry Fox was hanged at Maidstone prison for the murder of his mother in a Margate hotel the previous October but to the last he protested he was innocence. Was he?
Fox had already served terms in prison for theft and fraud; when he and his mother found themselves homeless, they went to hotels and left without paying but he seemed devoted her.
Since his teens when he had become a page boy to elderly aristocrats (who named him Cupid), he'd been active on the gay scene having liaisons with generous wealthy men as well as more commercial transactions. Did the homophobia of the judge and the prosecuting counsel affect the outcome?
Glenn Chandler presents Fox's story through interviews with his lawyer James D Cassels. (The News of the World were paying the defence costs.) Their prison conversation frames flashbacks to his life with his mother. There is more telling than action, the drama comes more from the fate that we know awaits him than actual incident, but it is carefully constructed to hold our interest and with only three actors is economical too.
Fox isn't whitewashed, but taking things he wants seems second nature. Sebastian Calver gives Sidney a childish innocence rather than sexual allure. Born in a Norfolk village, he claims he lost his accent on the train up to London. But is that naïvety an act or the real thing? At 31, perhaps it wasn't working so well. He hadn't always got away scot free. He did time and had to enlist to avoid one prosecution, but on release from gaol, he and his mother could celebrate and there's a Charleston-like knees-up, but we see little sign of a calculating mind planning things.
His mother Rosaline is as devoted to Sidney as he to her. Amanda Bailey plays how her influence formed his character. She too can play the innocent, but we see age and the loss of another son take their toll.
Strongest of these performances is Mark Curry's Cassels. Dispassionately on the side of his client, you feel he has sympathy for him, though he warns that the court's homophobia means that Fox must watch every word. We get a taste of the trial as he rehearses what he will say in court and of the way advocates keep professional role and the personal separate.
David Shields's design puts all the varied action in the same space with a video screen taking us from prison cell to Hampstead home or a Western Front cemetery and the Margate bedroom always there. It is lit by Joseph Ed Thomas and there is some discreet use of sound by Paul Gavin. Together, they help keep the play's progress fast and fluid.
Are you to believe Sir Bernard Spilsbury's evidence that a no longer visible internal bruising proved this to be a murder or the original coroner's decision that this was death by misadventure? Or is there some other explanation? Sidney Fox's Crime plays for about 80 minutes without interval to let you make up your own mind.
Reviewer: Howard Loxton