Siegfried
Richard Wagner
Longborough Festival Opera
Longborough Festival Opera, Moreton-in-Marsh, Gloucestershire
–

Listing details and ticket info...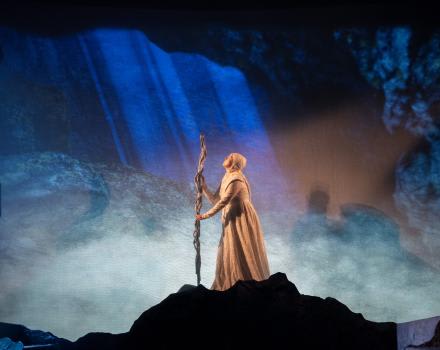 28 years in the composing, Richard Wagner's epic Ring Cycle created a new primeval, mythical world of gods, giants and Nibelung. The four operas, powerful in their enchantment, finally premièred at Bayreuth in 1876: a marathon for singers, orchestra and audience alike ever since.
Longborough Festival Opera is an intimate 500-seater theatre in the Cotswolds and Siegfried, the third opera in the cycle, directed by Amy Lane, conducted by Anthony Negus and strongly cast, relies on video for its epic scenic effects of caves, forests and mountains.
Siegfried, orphaned at birth and brought up by Mime, a dwarf, is not a heroic figure but a reckless brat. He forges his own sword, kills two people and wakes a sleeping beauty. It is easy to imagine Bradley Daley, who plays him, acting the James Corden role in Richard Bean's One Man, Two Guvnors.
Adrian Dwyer's Mime is no dwarf. Camp in hand and arm gestures, he wears an apron whilst concocting a poison. He's comic and likeable rather than treacherous and evil.
Wotan, in disguise as The Wanderer, wears a trench-coat and a floppy hat, sports an eye-patch and carries a staff. Paul Carey Jones has mystery and presence. He and Mime play three question riddles. It's like watching a television game show, except the stakes are higher. They can lose their heads.
Fafner, a giant transformed into a dragon, is played by Simon Wilding as a creepy old man on crutches. He looks more like a giant insect and is easily dispatched by Siegfried. Mark Stone is Alberich, Mime's brother, who fancies ruling the world, and he has an immediate vocal impact.
Julieth Lozano is a charmer as Waldvogel, a singing wood bird, who scribbles away in her notebook and guides Siegfried to Brünnhilde, who is usually discovered sleeping on a rock surrounded by a lake of fire. Here she is discovered asleep on a tiny-tiny rock, surrounded by spears. Since she is dressed in armour and helmet, Siegfried presumes she is a man and is surprised to find she is a woman (the only laugh out loud moment in the whole evening).
Siegfried is not certain what to do and is frightened to wake her. It takes him some time to kiss her and then only on the cheek. Lee Bisset's appealing Brünnhilde is ecstatic to be awake again but not keen to have sex with him. "Love yourself," she says, "and leave me alone." However, wild and passionate by nature, she tosses aside her wisdom and opts for "glorious love and laughing death."
The Ring Cycle continues at Longborough with Gotterdammerung in 2023 and the full cycle in 2024.
Longborough's Siegfried can be watched for free now on the OperaVision channel.
Reviewer: Robert Tanitch