Sigma
Sean Gandini (director), Seeta Patel (choreographer)
Gandini Juggling
The Lowry (Quays theatre)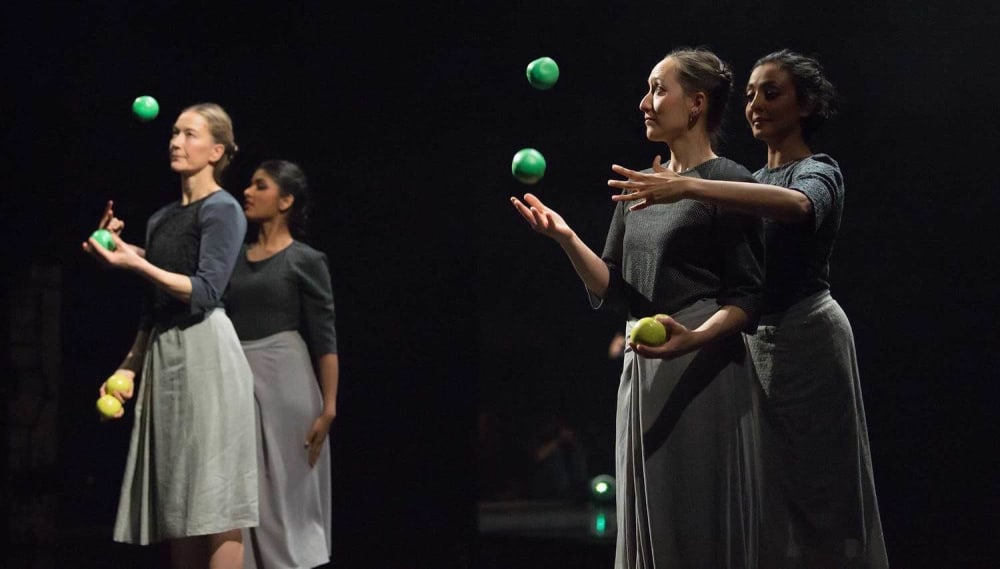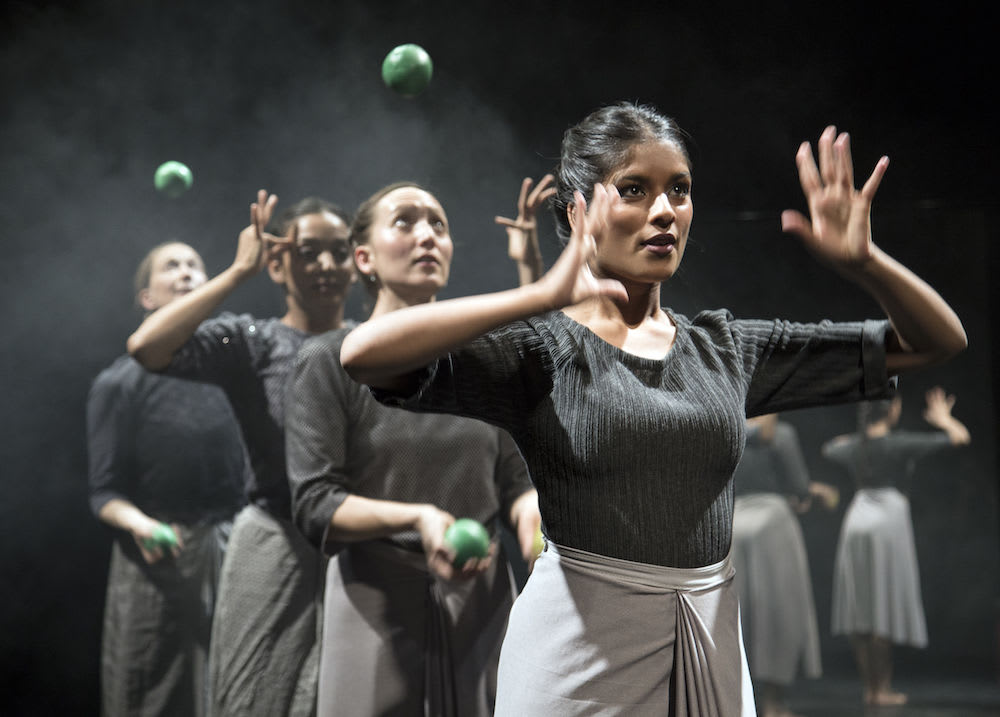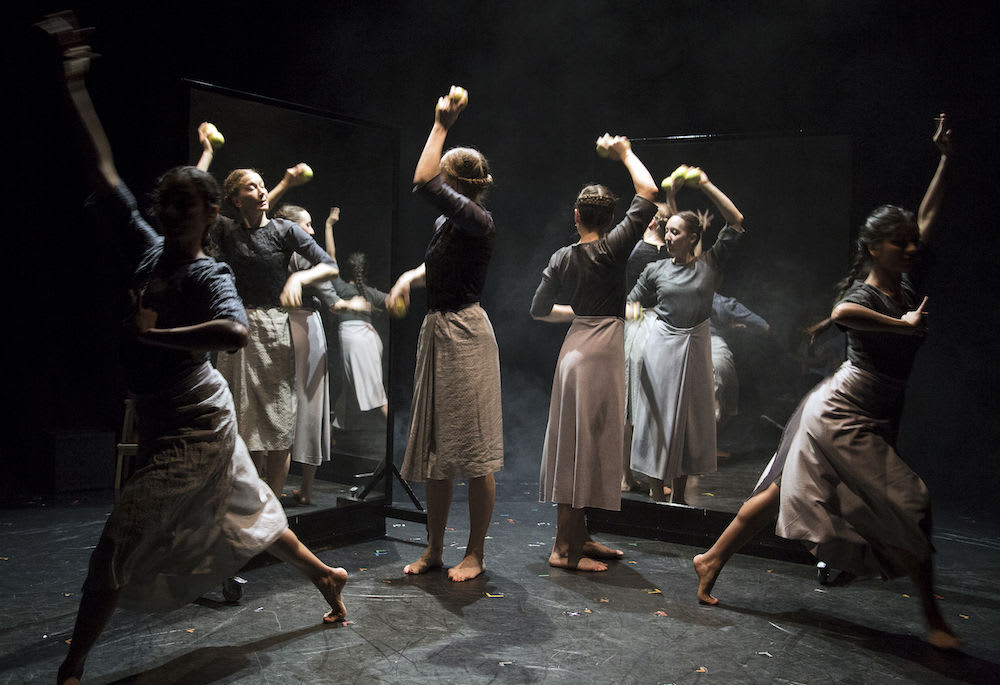 Some shows aim to leave the audience smiling. Gandini Juggling's Sigma aims to have us smiling all the way through. With one brief exception, it succeeds.
Director and co-founder, Sean Gandini views, "interaction between different art forms as romantic encounters or flirtations," and there is much here to bear that out. Exquisite timing is at the the heart of both juggling and the South Asian dance form that Sigma seeks to meld. All four performers (two from each discipline) not only possess such timing, but clearly have absolute trust that the others have it, too. The dancers step in and out of juggling routines, like perfectly adjusted armatures in a delicately constructed clockwork mechanism.
The four performers stride in like a mini corps de ballet. Initial forebodings, invited by their sepulchral hoods, are immediately torn asunder by a playful pastiche of pre-show audience expectations. Each, in turn, steps forward, lifts her hood and delivers a hope: "I hope the show will be… suitable for children," or "I hope the show will be about feminism… in underwear," and so on. Some hopes are reasonable, some funny, some bizarre. Any serious or high-minded ones are undercut with coquettish posturing.
"We are now two minutes into a sixty-minute show," announces juggler Kim Huynh. The regular time checks are a minor, yet effective device, leaving us to marvel at how quickly the time is passing. When you're having a good time, as the saying goes…
The first piece proper has all four women behind two mobile screens (which will later turn to reveal mirrors). Coloured balls fly high whilst impressions of arms, legs, occasionally entire torsos, press synchronised patterns into the soft screens, like pin-diagrams. The patterns proliferate, the eye never wearies.
The show features about a dozen routines in the space of an hour, setting a pace that is compelling but never breathless. Whilst, wisely, not an audience participation show, the cast do project and make contact with the crowd. Besides the charming, knowing winks from stage to auditorium, each delivers brief autobiographical details: giving name, date and place of birth for her parents and herself. It would, of course, be ungallant to pass such details on. Suffice to say both art forms can lay equal claim to making their practitioners look years younger.
For piece two, the screens separate just enough for Bharatanatyam artist Seeta Patel to thrust her arms between them. A shadow show of Rorschach diagrams, the kaleidoscopic virtues of this section rely on the precision of the dancer's gestures.
As an outstanding proponent of this south Asian dance form, Patel's stock-in-trade is the layering of meaning onto every gesture and look. Interestingly, this ability plays through into abstract pieces such as those we see tonight. Perhaps this is an insight into great abstract work—the eye is drawn ever deeper by the promise of a meaning, ever just beyond our grasp.
But this is too po-faced a reflection on an evening filled with smiles. The ears are tickled just as well, with the intricate chanting of classical Indian music (a kind of verbal juggling) regularly giving way to downright (and deliberately) silly cultural references (listen out for the Umpalumpas). At one point, there is a brief interlude for "Gratuitous Facial Expressions". In contrast, the jugglers' counterpart, "Gratuitous Colours", (Kati Ylä-Hokkala operating, as ever, in perfect co-ordination with Kim Huynh) is a dazzling morsel of tossed rings and twinkling rainbows.
Towards the end, Indu Panday dances solo, accompanied only by her own chanting. Lovely stuff. The smiling continues.
Ah yes, that bit where the smile fades. Not a failure at all, but a few moments of genuine beauty as Patel and Ylä-Hokkala share a pas de deux to the first of Bach's "Goldberg Variations"; one of Glenn Gould's recordings, I think, and the sound of him, humming along in the background only adds to the touching humanity of what we are witnessing. Okay, so maybe I was smiling—inside this time. I'll grant you that, dear reader. 'Twas so.
The "I hope..." opening is bookended with an "I wish..." take on the post-show vox pop.
"I wish... I could sit through it all again, tomorrow." (That one's mine).
A lovely evening, from first minute to last. Buy a ticket before it sells out, as it fully deserves to do.
Reviewer: Martin Thomasson