Signs of a Star Shaped Diva
Nona Shepphard
Graeae co-production with Theatre Royal Stratford East
Theatre Royal Stratford East
To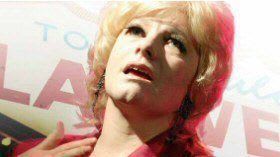 Wigs, dresses and miming to legendary female vocalists - no, it's not drag queens in a tacky gay club but a remarkable piece of theatre from disabled-led company Graeae. It is built around the talents of performer Caroline Parker, who signs songs for deaf audiences and began life at the Drill Hall as Signs of a Diva and its sequel Star Shaped Diva, now brought together as a single show.
It is the story of Sue Graves, funeral director of Bingley Bridge, and her love for Lawrence Stone (together they call themselves the Gravestones) and of Tammy Frascati who gains fame as the Deaf Diva. One is quiet and provincial, the other a glamorous international success but they are the same person. Tammy is the name that Sue adopts when a club owner sees her signing for the songs played at a funeral and invites to become a cabaret act in his club.
It is a classic bitter-sweet tale of show biz success and heartbreak, one half set in her funeral parlour, the other in her hotel room in Las Vegas - designer Takis makes one elegantly dark, the other shining silver. It is told by Sue herself using songs to buoy up her spirits, express emotion or seek advice, all woven into her story and eloquently signed.
With singers that range from Gertrude Lawrence to Amy Whitehouse and include Ella, Dusty, Whitney, Tammy, Bette Midler, Eartha Kitt, Dolly Parton, Billie Holiday, Gloria Gaynor and Lena Horne, it is indeed a Diva Fest but much more than that, this is a performance that totally engages. Only the songs are signed but for the deaf; all Sue's dialogue is shown on a screen with inventive typography and images that make it part of the show for everyone.
It is both moving and very funny, with some of its humour particularly aimed at the hard of hearing. Like words in foreign tongues 'foreign' sign can sometimes be mean something quite surprising if read as British Sign Language and those with hearing aids will particularly love one incident but it is co-directed by the author and Jenny Seeley, Graeae's Artistic Director, to make it a show for everyone with a mixture of story and those wonderful voices singing great songs that leaves the audience wanting more. To sustain a one-woman show for two and a half hours is no mean feat and Caroline Parker as Sue/Tammy certainly deserved her hand clapping, hand flapping reception she got from a delighted audience.
At the Theatre Royal, Stratford East until 6th February; then The Junction, Cambridge 9th February; Arena Theatre, Wolverhampton 10-11th February; University Theatre, Bedford 17th February; The Ustinov, Bath 18th-20th February; Lakeside Arts Centre, Nottingham 19th-20th April; New Wolsey, Ipswich 23rd-24th April; Stephen Joseph Theatre, Scarborough 27th-28th April; Theatre by the Lake, Keswick, 1st-3rd May; Tobacco Factory, Bristol 5th-9th May; The Hawth, Crawley 14th May; The REP, Birmingham 17th-19th May; Royal Exchange Studio, Manchester 20th-22nd May 2010.
Allison Vale reviewed this production at Bath's Ustinov
Reviewer: Howard Loxton