Signs of a Star Shaped Diva
Nona Shepphard
Graeae Theatre Company in association with Theatre Royal Stratford East
Ustinov, Bath Theatre Royal, and touring
(2010)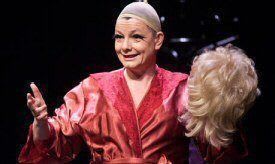 The inspired combination of a hearing-impaired female undertaker turned international cabaret artiste is the irresistible premise behind Nona Shepphard's magnificent Signs of a Star Shaped Diva.
Caroline Parker plays Sue Graves, and then transforms on stage into Graves' alter-ego, Tammy Frascati, the cabaret star whose name is a careful blend of her favourite diva (Tammy Winette) and her favourite tipple.
Parker delivers the two-hour long monologue with unfaltering appeal, leading us through Graves' captivating story of love, life, death, divas and Vegas.
But when she signs the hits of her favourite divas, Parker, who has her own cabaret act doing just that, is entirely mesmerising. In the opening moments, sitting in the black garb of her day job, she signs Roberta Flack's "The First Time Ever I Saw Your Face", a beautifully graceful and deeply emotional performance that takes the breath away.
Parker gives Dusty, Peggy, Ella, Billie, even Winehouse, their "other voice", one that not only renders them so much more heart-breaking but which also enables them to reach an entirely new audience. This wide appeal that is characteristic of the work of the inimitable, disabled-led company, Graeae, who excel in producing theatre for a fully inclusive audience.
At times Shepphard's text is as lyrical as the big numbers that sit effortlessly within her plot. But Parker's performances are laugh-out-loud funny as often as they move to tears. Gloria Gaynor's "I Will Survive", for example, comes at a critical moment in Graves' turbulent love affair, and is swiftly followed with the throw-away, "Actually Gloria, I didn't find that very helpful at all".
Runs at the Ustinov until February 20th and tours to Nottingham, Ipswich, Scarborough, Keswick, Bristol, Crawley, Birmingham and Manchester.
Howard Loxton reviewed this production at Stratford East
Reviewer: Allison Vale