Silence
Adapted from Kavita Puri's Partition Voices: Untold British Stories by Sonali Bhattacharyya, Gurpreet Kaur Bhatti, Ishy Din and Alexandra Wood
Donmar and Tara Theatre
Donmar Warehouse
–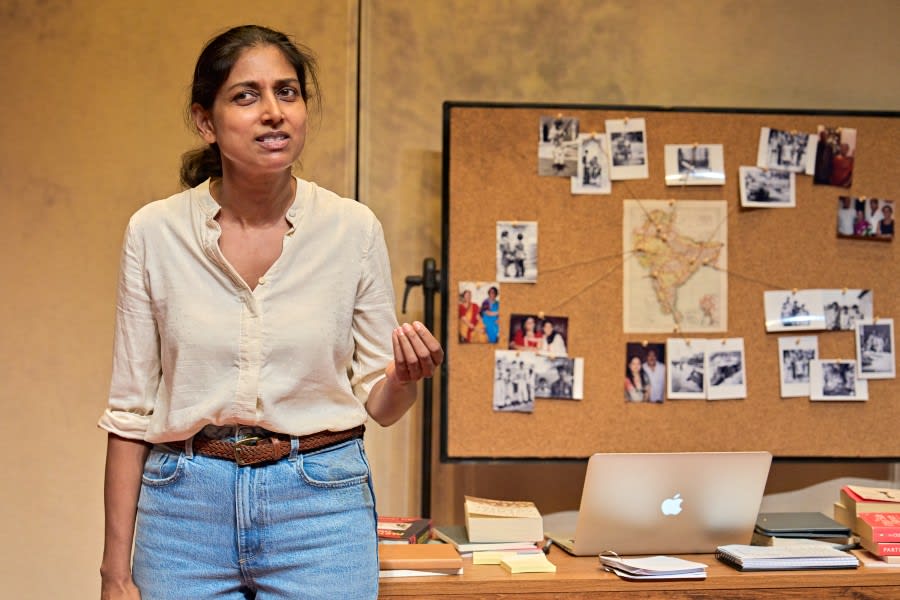 Everywhere the British Empire goes, it redraws national borders, pitches one group of people against another and then walks away with enough loot to keep it cheerful for a few more years. The consequence of these antics is rarely discussed. There is too often a silence about the trauma.
One such episode was the 1947 Partition of Imperial India into India and Pakistan. In a matter of months, it caused the death of over half a million people and displaced as many as twenty million.
The writers Sonali Bhattacharyya, Gurpreet Kaur Bhatti, Ishy Din and Alexandra Wood have adapted and shaped Kavita Puri's Partition Voices: Untold British Stories into a verbatim drama in which we hear some of the stories of those who experienced those events.
They are linked by the character of the journalist Mina (Nimmi Harasgama) who, having pitched to a newspaper a feature on the 75th anniversary of Partition, sets about interviewing people. Among them is her father (Bhasker Patel) who resists saying anything about those events for most of the play, leading his daughter to speculate that he has something to hide.
Among the first people to speak with her is the man who later became Mayor of Lewisham. He describes how, as a child, he and his Muslim friend laughed when they saw a sign saying "Muslims Get Out." They couldn't imagine the conflict to come.
A Hindu describes falling in love with a Muslim, only to have to part when the conflict erupts. He admits that had he been "a few years older I'd have converted to Islam… soil is so much more important than religion."
Escaping from the escalating conflict wasn't easy. A man describes catching a train with others out of an area. When the train stops in the middle of nowhere, he joins a different train full of Pakistani soldiers. Later, going to sleep in a station, he wakes surrounded by the dead bodies of passengers he left behind.
Another man recalls an attack on his family by Muslims which killed his father and injured him while other Muslims rescued and hid his sister with whom he was later reunited. He is astonished that "old friends in the morning wanted me dead in the afternoon."
Among the British witnesses to the horror is James (Martin Turner) from Dundee, who recalls affectionately the lullabies his ayah (nanny) used to sing to him. He saw two men being murdered with big sticks. On another occasion when he was fishing, a body floated up to him. He pushed it away with his rod.
The "female body became a battleground in the newly formed nations." Some 75 thousand women were abducted on all sides. Many rape victims were forced to have abortions or killed because they had been dishonoured.
The political context to all this is often sketched in by Mina who talks about the "divide and rule" approach which "finds the fault-lines in society" and uses them to gain power, "systematically breeding hatred" between those they ruled.
This often-moving, well performed production is an important glimpse of an appalling situation inflicted by Britain at the end of its 400 years rule of India. Cyril Radcliffe, who had never been to India, was given just five weeks to carve the place up. There could have been no surprise at the panic and distress this caused. This is a history that should be taught in every school in Britain.
Reviewer: Keith Mckenna