Silent Night
Colin Crowther and Mary Crowther
Arkle Theatre Company
The Royal Scots Club
–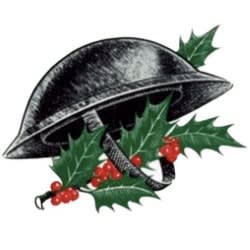 Based on a true event, Silent Night is a warmly minded story of forgiveness and communication, as the Anderson family repair to their hastily constructed tin bomb-shelter in the back garden on Christmas Eve during the Blitz. Only they've barely begun to whinge, name-call and recriminate at each other when a colossal explosion throws them into an existential and purgatorial limbo, where they can only await the inevitable knock of Saint Peter at the door. But in the meantime, why not open up to each other a little?
It's a basic enough premise, with some amusing lines and with enough scope of character interactions to bring some festive cheer from the warmer moments, but the piece never wants to get into anything too serious, despite the theoretically dark concept being waved at the audience.
It's also unfortunately worth mentioning that, although the production wears its community theatre origin proudly, that never comes into question as the line deliveries are often flat, unemotional, and in some cases, almost unintentionally comical in their repetitive nature.
This feels like what it is: a small community Christmas play. That would not be out of place in a local vicarage or community hall, performed some chilly December evening for the amusement of the general parish. In the sea of theatrical talent that is the Fringe, however, it falls somewhat below the general standard to be expected.
Reviewer: Graeme Strachan