Silk Road (How to Buy Drugs Online)
Alex Oates
Shrapnel Theatre and Evelyn James Productions
Trafalgar Studios (Studio 2)
–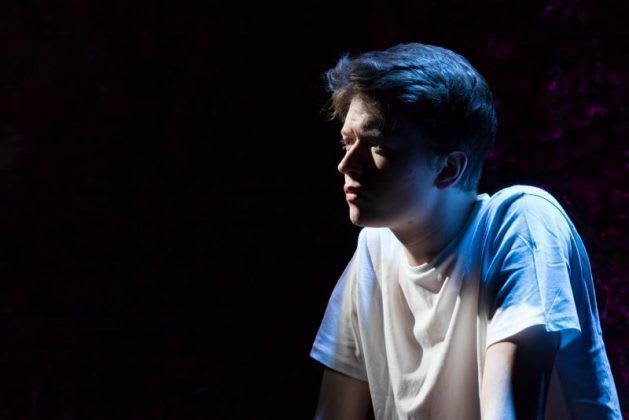 After earlier appearances at the Edinburgh Festival and the Vaults, Alex Oates's one-acter now comes to the West End. This Silk Road isn't the ancient trade route to China but an online business supplying drugs through the Dark Web founded in 2011 by "Dread Pirate Roberts". It was shut down by the FBI in 2013, restarted within a month but then shut down again.
The play is a monologue in the voice of Bruce Blakemore, a young Geordie who discovered the Dark Web and the currency Bitcoin. It began as a short piece that was part of the Arcola's Story Project directed by Dominic Shaw with James Baxter as the original Bruce. This is a more developed 50-minute version, with relative newcomer Josh Barrow as Bruce giving a stunning performance.
Bruce is a nineteen-year-old living in Whitley Bay with his 84-year-old granny. He lacks any real interests, has never read the copy of Treasure Island he holds in his hand as he tells his story, wondering about pirates then and Pirate Roberts. Now what is he up to as he pours petrol over a stack of books and sets a toaster on top of them?
It was a girl from school he was keen on who got him into the party scene; it was for her that he first started getting drugs: she would line up cocaine with her library card. When she goes off to university he blags his way into the club run by local underworld figure Mr Shaggy and gets installed as a DJ until a disagreement sees him thrown out (but taking away a laptop of Shaggy's—a fortunate fact for the future).
Shaggy's shit is "homeopathic cocaine" (it is so cut with other stuff). With a place on the Silk Road, the help of Nan's knitting skills and a whole library of hollowed out books, Bruce can offer better care of Postman Pat.
It is a colourful story of bold entrepreneurship, told with energy and a great deal of dark humour: but a warning too. Alex Oates's writing is stylish but fluid and natural with a poetic bounce to it. It made me think of Milk Wood. Dominic Shaw's direction drives a fast pace and, as it shifts between audience interaction, recounting and re-enactment, sudden lighting changes provide the punctuation that keeps track of things.
Josh Barrow gives Bruce a fresh innocence; he's a bright spark and you can't help but like him, but we don't only get Bruce, frequently drug-fuelled frenetic, we also get grandma, megaphone-voiced Mr Shaggy and Shaggy's bouncer, heavily into amdram musicals and the posh bloke the girlfriend brings home from university.
Bruce's devoted gran is an especially engaging creation. "I'm proud of every little mistake you make," she tells him. Why doesn't he have a girlfriend? She's perfectly happy if he's gay (but he's not). She claims fame for presenting a bouquet to Princess Anne (but she didn't). Gran and the team of knitters she gathers are a vital part of Bruce's operation. She may never have know what they were actually up to but Bruce shares the whole thing with the audience in what becomes a carefully-crafted coming-of-age story as well as a glimpse into the world of the dealer.
Silk Road may cover a dark subject but it generates a great deal of fun and a pyrotechnic performance.
Reviewer: Howard Loxton