Running the Silk Road
Paul Sirett
Conceived and directed by David Tse Ka-Shing
Yellow Earth Theatre Northern Stage, Newcastle, and touring
(2008)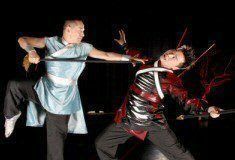 A blood-red thunder bolt slashes across the stage setting the scene for David Tse Ka-Shing's production of Running the Silk Road. This piece of theatre blends East and West telling a modern story mixed with complex Chinese myths.
The contemporary story follows a group of friends who set themselves the epic challenge to run the ancient Silk Road of China - all 5000 miles of it! It is, in fact, just Ken (Nick Chee Ping Kellington) being stuck in the world of academia without love and purpose who declares he will run, pleading with his friends to raise funds and sponsorship and offer moral support for his vast marathon. From country to country as the heat increases, tempers fly, complications arise and the group's friendship is tested, ultimately threatening their chances of success.
Weaving in and around the contemporary story are the magical and timeless myths including Nü Ch'ou Chih Shih, goddess of the solar myth, YU, queller of the world flood, and his opponent Lei Shen, the thunder god. Accompanied by ancient Chinese song, the latter go head to head in a highly stylised and choreographed fight which seems almost effortless from the two physical actors Shen Feng and Yanzhong Huang and offers the spectacle we crave throughout this piece.
The strong ensemble work very hard, using both English and Chinese with translations appearing electronically overhead - although sometimes these were not in alignment with the text, leaving the audience a little confused. But the sharp blackouts, heavy soundscapes and constant introduction of mythical creatures in puppet form all ensure that the production intrigues the audience and quashes any idea of predictability.
Running the Silk Road offers an insight into how Eastern cultures are present within the West and how Western cultures and ideals can be influenced by the East, both physically and mentally. This simple story focuses mainly on the internal struggles we all face regardless of ethnicity or religion and is explored in the philosophical realms of Ancient Chinese mythology. Fans of the East, West, modern and ancient will all find something to delight in from this production.
Howard Loxton reviewed this production at the Barbican Pit at the end of its tour
Reviewer: V Mitchell