Silver Birch House
Leyla Nazli
Arcola Theatre
(2007)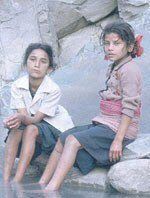 Silver Birch House is a two-act play set in the mountains of Turkey, depicting the trials and tribulations of a peasant family. The father Haydar represents the past in his values and traditions, while his wife, who may or may not be Armenian, looks for a new beginning with her four children in the city. However, these children are growing up into young adults, with their own romantic notions and dreams, all compromised by their struggle to accommodate their father's desires. It takes a world war (1914), genocide (1915), rebellion (1938), a military coup (1960), a communist movement (1971) and yet another military coup (1980) to begin to rebuild what Haydar calls a " constantly disturbed heave."
Haydar spends his whole life trying to build his dream home out of Silver Birch trees, because"they are beautiful", but the land is rocky and the foundations are full of ghosts. This metaphor for building a new life is a running motif throughout the story and perhaps it is a little overstated. There is a thin line between spoon-feeding and allowing the story to unfold, but this may be the writer's attempt to make the historical/political references accessible.
Peter Polycarpou (Haydar) played with passion, precision and honesty and gave an authentic portrayal of a man struggling to keep whole of his family, while also being the main reason for their isolation. Philip Arditti played the frustrated son Tamer at odd with his farther, with a mixture of anger and disgust towards him, as well as a longing to bond. Then there are the three daughters; Feride (Beatriz Romilly) Serap (Rebecca Calder), and Filiz, who is 'daddy's favourite' (Marianna Neofitou) and who gave a lively and enjoyable performance.
Epic storytelling is always difficult to pull off in an age where we want instant information, but Silver Birch House is unashamed to lead the audience into the woods very slowly. The domestic setting, the sexual politics of men and women, the simple expectations on life, are authentic in their old-fashioned principles. The rhythm of the first act embodies that slow way of life found in the Mediterranean/Eastern European life style, which create a world that is very familiar to all second-generation immigrants (myself included).
The second act has a different energy from the first. It is full of shorter scenes and more visual moments, which are pretty much over before you can finish your drink. This can be another metaphor for how quickly life changed after all the historical/political events, or it could be a sign that Nazli needed to wrap everything up. In my opinion, it takes great courage to write a play that is not based on British culture and to keep a pronominally British audience engaged. Personally, I could have stayed in the woods for an extra 10-15 minutes, but maybe this is indulgence on my part.
Reviewer: Lennie Varvarides