Simon Callow in Juvenalia
Juvenal, adapted by Richard Quick
Assembly Theatre, Riverside Studios and Theatre Royal Plymouth
Assembly Hall
–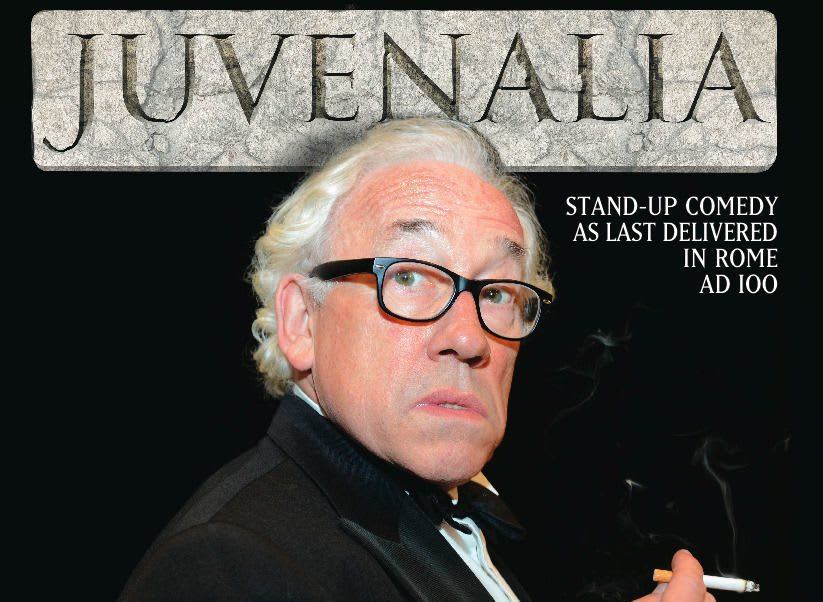 This performance by Simon Callow is subtitled on some publicity as "stand-up comedy as last delivered in Rome AD 100" as it is based on Juvenal's 16 Satires from a couple of millennia ago.
The concept comes from the premise that the subjects covered by Juvenal's complaints about his world are rather like those of a modern observational comedian. Up to a point, this idea does have some validity, although this comic appears to be from the '70s, both from his appearance, dressed in a white shirt black suit with an undone bow tie, and from his material.
He opens with a complaint about how dull it is to sit in the audience for a poetry recital, a dangerous idea to put into the minds of the audience. We then get material on such topics as women and their cosmetics, mothers-in-law, going out to dinner, gay marriage and old men.
He has a go at the Greeks for their sexual behaviour but compliments their acting ability—in female roles. He mocks the idea of marriage, preferring the less permanent company of young boys.
While some have complained that the material is offensive, the real problem is that, although the idea comes across at certain moments, it doesn't work as a whole as a stand-up comedy routine, so the whole premise quickly breaks down. Callow's performance also pushes the comedy in certain moments, but the rest he performs as he would a Shakespeare sonnet.
While the vocabulary has been updated, the verse still sounds archaic and is often difficult to understand. Perhaps if the funnier parts were performed by a real stand-up, there could be something in the idea, but this takes a lot of listening and concentration for too little reward
Reviewer: David Chadderton