Sinatra: The Man and His Music
Directed by David Gilmore, choreographed by GJD Choreography
Karl Sydow in association with Frank Sinatra Enterprises
London Palladium
–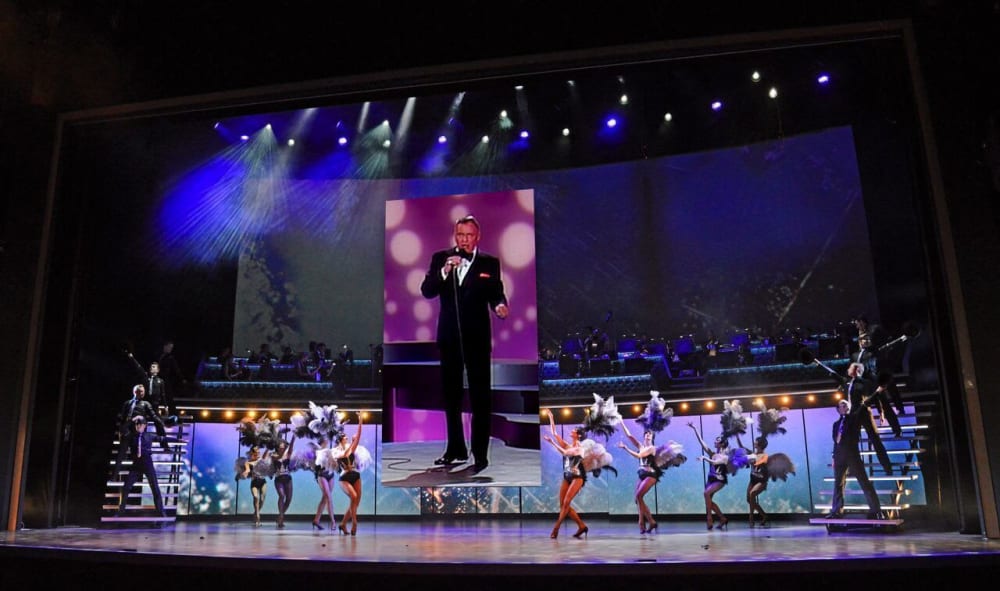 Francis Albert Sinatra died in 1998 but here he is, back at the London Palladium in an elaborately staged spectacular, just 65 years since his first appearance there in July 1950.
Old Blue-eyes may only be visible on film and that unmistakeable voice heard from recordings but this centenary celebration of the singer and actor is a lavish serving of 29 songs with a live orchestra, a team of 20 dancers and a multiplicity of images both still and moving.
The songs are delivered in clips from filmed concerts and television shows, most from a couple made mid-career, but the production is shaped as a potted biography as delivered by Sinatra himself, presumably in interview. It isn't a warts and all portrait by a long way, but with Nancy Sinatra with her daughter on stage to make a speech on the first night. When you give a party in memory of grandpa, you make it a happy family occasion.
On YouTube or other online sources, you can find a plethora of film clips without paying the cost of a Palladium ticket (£125 best seats apparently) but here a selection across the Sinatra songbook has been made for you. Limiting the sources for Sinatra's performances helps give a consistency of image and voice that feel more like a record of one actual performance but the surrounding material reflecting his life and times must have been a prodigious undertaking for the picture researchers.
They have dug out images drawn from home movies and newsreels, an Oscar acceptance to Pearl Harbour. There are photos of wives and children, friends and co-stars and of the bands he played with, mainly just glimpsed in a rapid montage on multiple screens. In addition to the Sinatra story in images, there are lively graphic sequences that splatter all available space when no biographical material is appropriate.
The orchestra spreads in tiers across a stage upper level and everywhere else there are images: above them on the backcloth, below them on revolving panels, on hanging banners lowered across the stage, on a front gauze and on a video screen lowered centre to feature the image of Frankie performing.
The video design and projection technology by 59 Productions Ltd is a considerable technical accomplishment and very carefully constructed, but the lifeblood is provide by twenty dancers in choreography by Glenn Wilkinson and Jacquie Biggs that ranges from ballet to jitterbug.
The live performance element: the theatre-filling sound of the big band with featured solos on trumpet and clarinet, and the vitality of the dancers are what turns this into a stage show and the presence of an enthusiastic audience adds an element of being at a live concert that you won't get watching online film clips. But there is a problem. However well the various elements are technically integrated, there is a conflict.
The Sinatra concert clips are made physically dominant, pushing the live action into the background. On the other hand, the stage full of dancers and busy images that should enhance mood and support the soloist can seem a distraction. Intriguingly, a television clip of Sinatra singing "One for My Baby" to a barman in which he acts it out, shown without anything else going on, seemed the most theatrical moment.
Laura Hopkins's colourful costumes for the dancers include some very glamorous outfits but the images and choreography and the choice of life incident don't always match the song well and some of the songs are available in performances you might think sound better, but they have been chosen for image.
Those fans most besotted with Sinatra will get the most from the show, just watching their man. As a theatrical experience, however, one longed for the action to centre on the live performers, for that central video screen to fly out just leave the voice, and focus on the dancers.
But this is essentially intended as a centenary celebratory tribute to Sinatra, so it has to have him at its centre.
Reviewer: Howard Loxton