The Adventures of Sinbad
Andrew Pollard
The Georgian Theatre Royal, Richmond, North Yorkshire
(2011)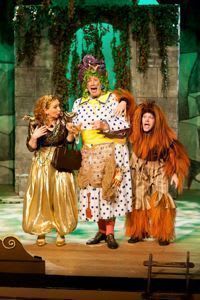 If panto is the essence of Christmas, this one tastes of bananas. With banoffie pie foam and a bucket load of knitted bananas, you just can't go wrong with this traditional fare. The tiny Georgian Theatre Royal in Richmond is transformed into a giant seafaring vessel complete with a Titanic-style bow, masts and an impressive poop deck full of talented musicians. I'd never actually noticed before that The Georgian Theatre resembled a boat. One of those old, oceangoing liners with salty beams where decks full of people wave excitedly as they embark on an adventure.
The Sinbad story is our adventure, a quest to get the girl, Princess Celestia (Lucy Frost). Sinbad, a thigh-slapping Bunny Tranter, must fight the giant squid and take on all the tricksters in his wake to find the treasure, marry his princess and find the happy ending. This is panto as it should be with expertly painted scenery from Barnard Castle designer Simon Pell. I loved his huge map cloth aptly showing the Island of Lidington's Bluff and Pell Mell Shell Island. You can be sure that director Tony Lidington has plenty of bluff, but there's nothing deceptive about his boast of 'a totally immersive' show; he's telling it like it is. He's created the buoyancy with music, theatrical madness and enough laughter to float this boat well above the competition.
Joe Fleming's Mustafa Nana is full of fantastic athletic energy as he balances precariously on the bow of the ship. He swings from the top bunk with balletic ease and even landed right next to me at one point and his drumming solo is quite a triumph as he rises from the pit dressed as a hairy ape. The baddie Wazzir, a wide-eyed Gary Bridgens (he loves his boos), has commanding control of evil. His partner The Sultana, Jill Myers, is the parody of pushy posh with great enunciation and a fabulous singing voice.
Writer Andrew Pollard has excelled with his pen and an amazing ability to pack in the jokes and the action. He knows the Dame Game inside out; watch out for him in his seventh panto at this year's Greenwich Theatre, London. As if this and that aren't enough, you can get more of his unique style at The Palace Theatre, Watford.
No panto would be complete without a dame and there's nothing more like a dame than the Turkish delight loving Dominic Goodwin as Dame Donna Kebab. Goodwin must be the mother of all dames, he's actually funny before he even opens his mouth, and courtesy of costume designer Dawn Outhwaite his costumes get more outrageous with every change. Mention too for the fabulous School of Theatre Dance from Reeth who are all very involved in this production; they were amazing and I loved their jellyfish dance which came complete with bubble machine effects.
Other worthy mentions go to multi-talented musician Jack Burton; Joe Nicholson for his gentle brute Garganto, and I hope there's a physiotherapist waiting in the wings because he lifts everyone, including the heavyweight Goodwin; Daniel Bowater for his rollickingly good music and Tony Wilcock for the lights and production management.
Theatrical invention is the watchword with a shark on a skateboard, a neat elephant and a flying genie. When the ship sank, the water came from the stern of the ship (top lighting box) across the heads of the audience, but don't worry, you won't get wet, it's just very effective blue silk. Knitted bananas were handed out to the audience towards the end of the show for the pelting of the baddie, and the whole theatre became an riotous banana boat.
Of course no decent panto would be seen dead without a choreographer and Janet Seymour proves her worth with some very descriptive work. Mustn't miss out assistant costume designer, Emma Carter or stage manager, Fleur Linden Beeley but the final words must belong to the new chief executive and producer, Kate Longmate, who was, I hear, to be found still in the theatre at 10 o'clock one evening during rehearsals sewing curtain rings; you done good girl and may the Arts Council of England reward you with a treasure chest full of gold.
Until 7 Jan 2012
Reviewer: Helen Brown