Sing Yer Heart Out For The Lads
Roy Williams
Festival Theatre, Chichester
Minerva Theatre, Chichester
–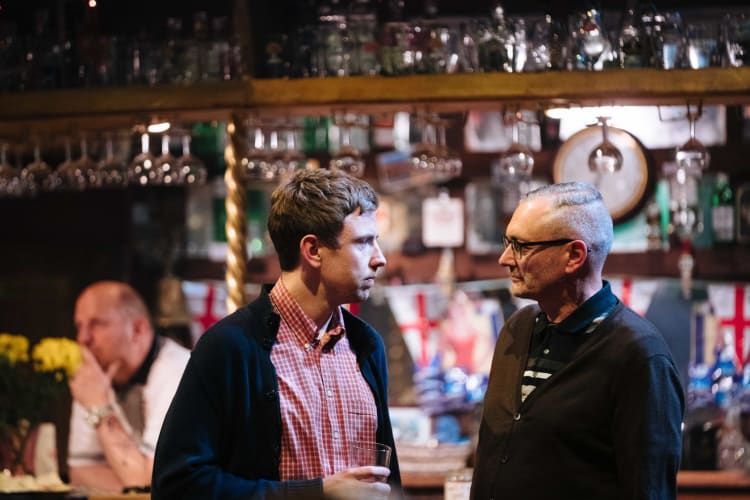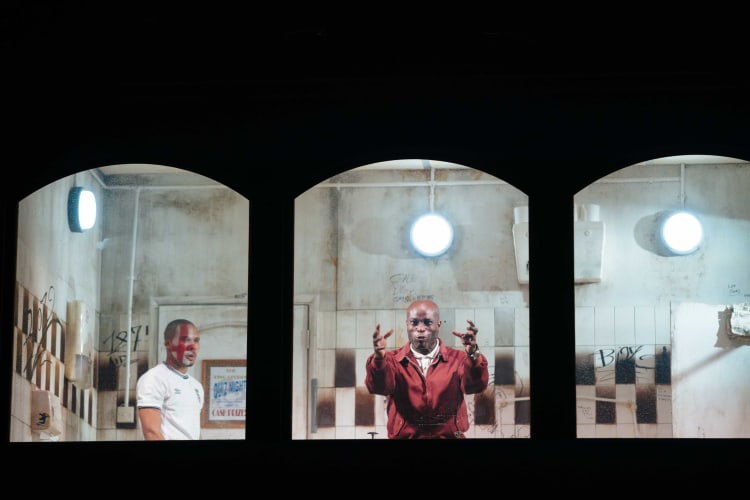 Perhaps I was not the person to have reviewed this show as I have no knowledge of football whatsoever and therefore missed many references to players and managers, but I have often thought of it as a wonderful game, one which can unite people almost anywhere the world, creating instant friendships with discussions of merits (or otherwise) of the players, often animatedly but peacefully. Why then has it become a game to attract the worst sort of abusive racism or antisemitism either shouted out in person or, more likely, cowardly anonymous on social media?
Roy Williams's play, set in a South London pub, takes in every type of character imaginable to make its point. The locals have gathered to watch the 2000 England v Germany World Cup Qualifier, the last match to be held at the old Wembley Stadium (so I am told) but also bringing in a reason to focus on xenophobia as well as everything else.
Set designer Joanna Scotcher has miraculously changed the Minerva into the King George Pub, complete with dartboard and table football, with the centre-stage area having tables and stools where landlady Gina is putting out name tags for those who have paid to watch the match—always supposing that the television will work. The landlord Lawrie (Richard Ridell) is a tough-talking, loud-mouthed would-be bully, but no match for Sian Reese-Williams as Gina—a feisty, no nonsense, 'my word is law', single mother whose son Glen (Jem Matthews) thinks it's 'cool' to mix with the local street kids who, in this case, happen to be black. Sadly, he comes unstuck on that one, causing a lot of trouble.
There is a lot of raucous noise in this production, sometimes shouting with excitement or, more often, with anger and accusations, especially when young Glen comes home injured and without his jacket and phone, but there also manages at least one episode of humour with combatants fighting their own match over the football table.
Mark Springer is Mark, the one calm and composed character who seems to be a regular in this pub but is, perhaps, tolerated more than liked. His control snaps when the violent Lawrie has a go at him, but his arguments with Michael Hodgson's Alan I found the most interesting and intriguing. Alan is the worst sort of racist—having read a lot, he thinks he knows everything and his reading has convinced him that being white is far superior to being black. Why anyone should believe that is a mystery to me, but there are, frighteningly, far too many people who do believe it.
Performances right across the board are simply stunning, every single one giving life and body to their character—however horrible some of them are! Joanna Bowman directs a tightly controlled production keeping everyone on their toes, and technology here allows us a view of the men's washroom and the final desperate moments of the story. A play about prejudice—stunning, frightening—and necessary!
Reviewer: Sheila Connor