Singin' in the Rain
Book by Betty Comden and Adolph Green, songs by Nacio Herb Brown and Arthur Freed
Michael Harrison and Jonathan Church, Chichester Festival Theatre and Stage Entertainment
Alhambra Theatre, Bradford
–

Listing details and ticket info...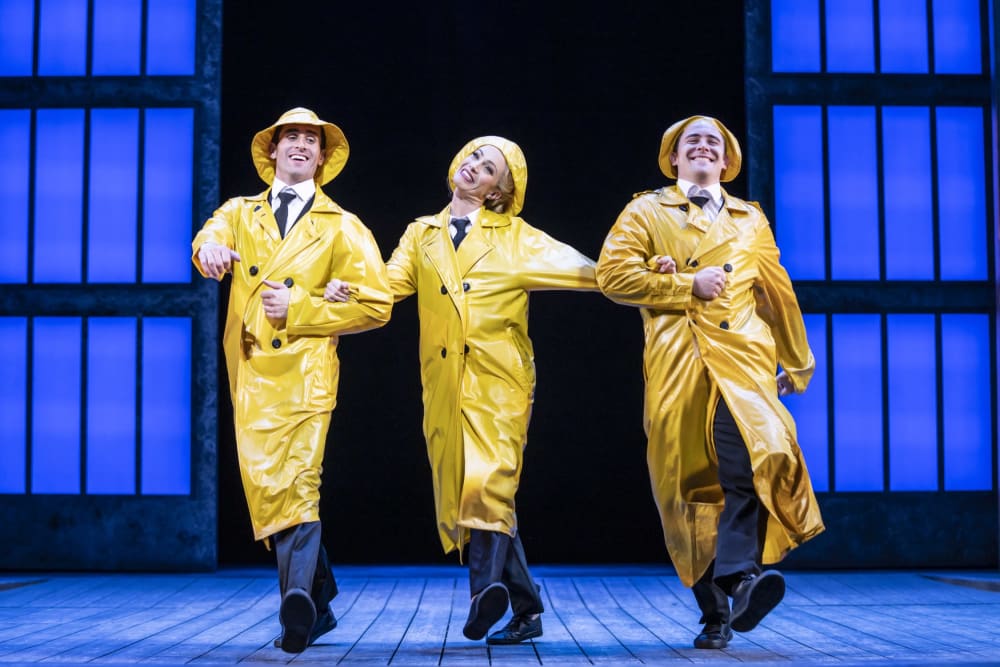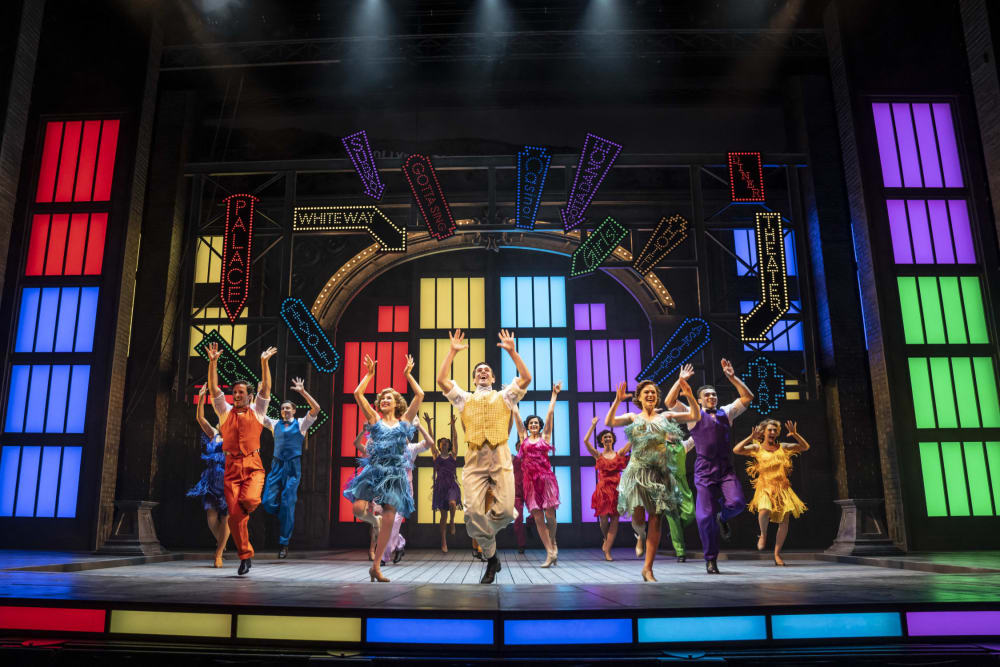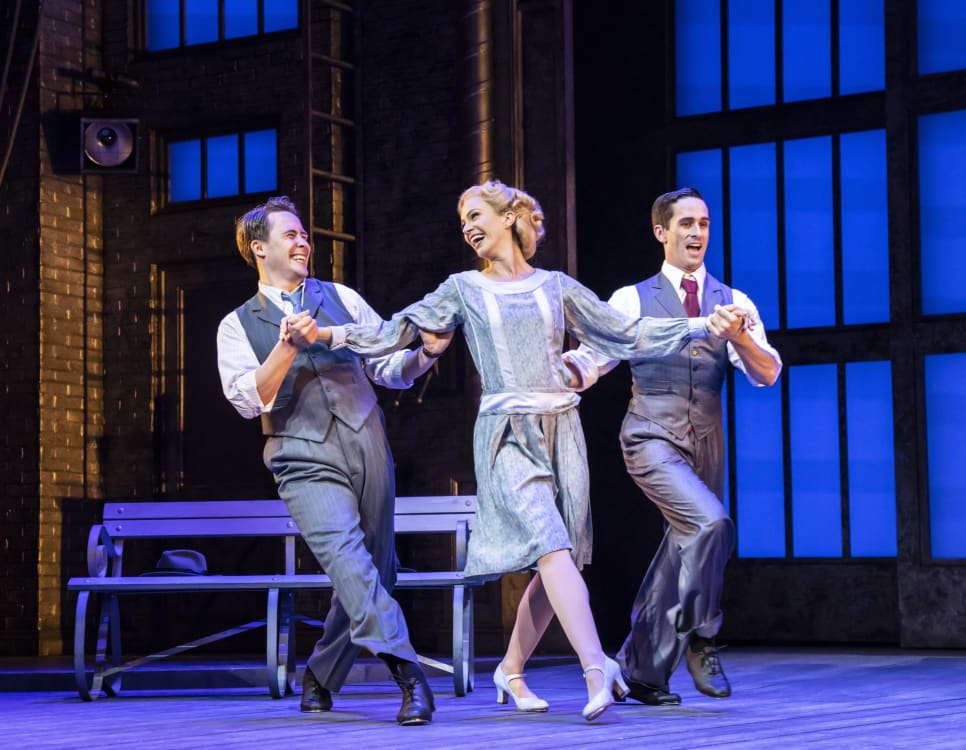 First screened 70 years ago, Singin' in the Rain is widely regarded as a masterpiece. The fearsome critic Pauline Kael described it as "just about the best Hollywood musical of all time", and its most famous scene—in which Gene Kelly ecstatically swings from lampposts whilst water descends from above—has been celebrated and parodied countless times, from Morecambe and Wise to A Clockwork Orange.
My expectations for Jonathan Church's stage version of Singin' in the Rain were modest to say the least. How could it possibly live up to the 1952 film, one of those glorious Hollywood accidents—like Casablanca, released ten years earlier—where the final product is somehow far greater than its individual parts?
I'm happy to report that while Church's staging doesn't surpass the original film, it nevertheless offers a thrilling evening at the theatre. Slick, fast-paced and energetic, Singin' in the Rain is marvellously entertaining from beginning to end, capturing the warmth, wit and charm that makes the film so beloved.
The show sticks closely to the original, offering a hilarious dramatisation of the effect that sound recording had upon Hollywood in the late 1920s. Up until this point, film actors had relied upon their physicality to perform their roles, but the talkies meant they were now expected to speak as well. Whilst some actors were able to make this transition (Greta Garbo and Joan Crawford, for example), many faded into Norma Desmond-style obscurity.
Don Lockwood (Sam Lips) and Lina Lamont (Jenny Gayner) are the toast of Hollywood, worshipped by the public for their romantic melodramas. Their studio, Monumental Pictures, links them romantically in order to generate publicity, but Don intensely dislikes his shallow, spoiled and screechy-voiced co-star.
Don falls for Kathy Selden (Charlotte Gooch), an aspiring actress who initially mocks him for his melodramatic acting style, and she soon reciprocates his affections. Lina is understandably enraged that Don has fallen for another woman, particularly one who threw a cream pie in her face (admittedly by accident) at a Hollywood shindig.
Following a disastrous press screening of his first sound film, Don resolves to turn The Duelling Cavalier into The Dancing Cavalier, with Kathy dubbing Lina's voice. Can Don make the leap to talkies or will he end up just another forgotten star from a bygone era?
Throughout Singin' in the Rain, I was struck by how effortlessly the original film translates to the theatre. It seems counterintuitive that a story about filmmaking should work so well on stage, but the scenes in which Don and Lina struggle to adopt to microphones were utterly hilarious. Praise must also go to Ian William Galloway, whose skilfully made videos offer an affectionate parody of silent cinema.
I was relieved to see that the show manages to preserve the film's most iconic moments. During his hyper-kinetic performance of "Make 'Em Laugh", for example, Ross McLaren replicates some of Donald O'Connor's most death-defying moves, and Sam Lips's performance of the title song, in which water is dropped from above, offers a spectacular end to the first half.
Sam Lips captures Gene Kelly's cornball charm, and his dancing is terrific throughout. Charlotte Gooch excels as Kathy, and I enjoyed the way she poked fun at her beau's more outré romantic gestures. Ross McLaren brings considerable dynamism and mischief to the part of Cosmo, Don's best friend, and Jenny Gayner is superb as the villainous Lina.
Singin' in the Rain is rightly famous for Gene Kelly's explosive choreography, which draws upon a wide range of styles such as tap, ballet and contemporary. Andrew Wright's work is highly impressive; each dance sequence is imaginatively constructed and deftly performed by a top-drawer ensemble.
In the show's programme, we are reminded that the first Hollywood musicals to make a splash—such as 42nd Street in 1933—did so precisely because Depression-weary Americans were hungry for escapist entertainment. If you want to escape reality for two and a half hours, I highly recommend Singin' in the Rain.
Reviewer: James Ballands