Singin' in the Rain
Screenplay by Betty Comden and Adolph Green, songs by Nacio Herb Brown and Arthur Freed
Octagon Theatre Bolton, New Vic Theatre, Newcastle-under-Lyme and Salisbury Playhouse
Octagon Theatre, Bolton
–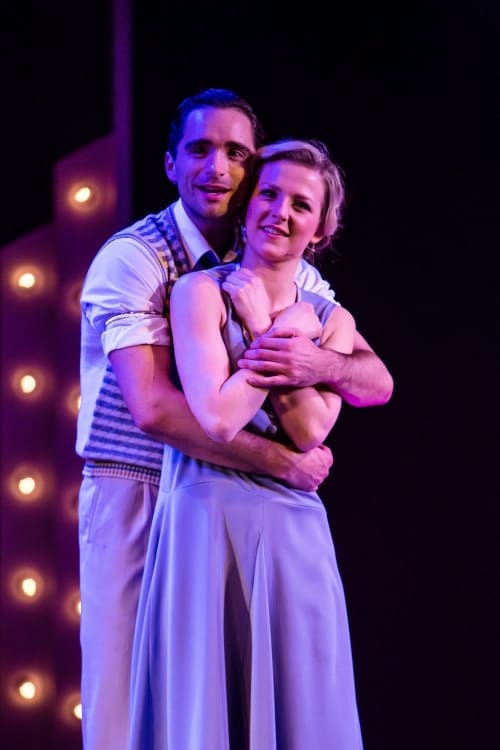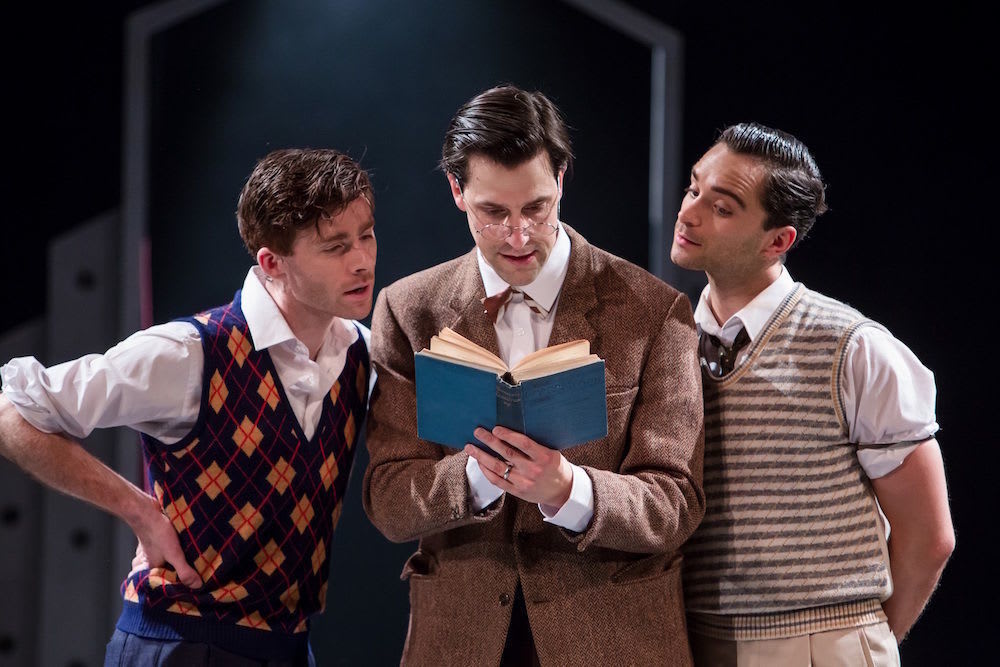 Elizabeth Newman closes her first summer season as artistic director with this stage transfer—the credits indicate that this is more a transfer than an adaptation—of arguably the greatest film musical of all time.
Comden and Green's romantic comedy is set in one of the most significant times in the history of cinema. In 1927, Don Lockwood and Lina Lamont are the biggest stars of the silent screen, filling the gossip columns with speculation on whether their on-screen romance is echoed off-screen—for Lina it is, but Don despises his co-star.
Lockwood and Lamont begin work on their next major picture, The Duelling Cavalier, but production is halted when The Jazz Singer is released and all the cinemas and cinema-going public want more pictures where the actors speak. This is fine for Don, but Lina has a voice like fingernails down a blackboard and is unable to understand the basic concept of speaking into a microphone.
Enter Kathy Selden, a struggling but talented young actress and singer with whom Don has fallen in love (then lost, then found again), who could dub Lina's voice for a new musical version of the film: The Dancing Cavalier. Lina isn't happy, until she finds a way to turn the situation to her advantage.
That same wonderful script that works so well on screen still largely works on stage, but what gives it away as a transfer rather than an adaptation is the cinematic nature of many of the scenes. Where, in the original, there would have been a cut or dissolve to the next scene, on stage some scenes fizzle out or fade into long scene changes, which can kill the pace and therefore some of the comic timing.
The score sounds terrific. Although this is an actor-musician production, there is a wonderfully full sound throughout, despite some of the performers stepping out of the band to act in scenes. Musical director Richard Reeday has done a great job on the arrangements.
The ensemble cast give an incredibly energetic performance throughout the 2½-hour performance, most playing multiple roles and multiple instruments.
Matthew Croke as Don doesn't always deliver his dialogue in the most confident or effective way, but he can certainly impress hugely with his singing and dancing, so two out of three ain't bad. Opposite him, Eleanor Brown gives a lovely, natural performance as Kathy Selden.
Sarah Vezmar uses the same voice as Jean Hagen did for Lina, but her performance is just fantastic, culminating in the one song that isn't well-known, "What's Wrong With Me", which she turns into a tour-de-force.
Similarly, Christian Brown is clearly channeling Donald O'Connor's original Cosmo Brown, the lovable non-star who doesn't get the girl, but he does so very effectively. While his "Make 'Em Laugh" suffers a little from the very cramped stage space, he performs it well, ending with a nod to the ending of the original.
The hits from this show include "Make 'Em Laugh", "You Are My Lucky Star", "Moses Supposes", "Good Morning", "Would You?" and we get a small sample of the wonderful "Broadway Melody". Then there is, of course, the title track, which closes both acts with a torrential downpour and a dance (choreographer Siân Williams) that spreads the puddles around the audience—some of whom are provided with bright yellow rain capes.
This is a perfect summer end-of-season production with great songs, great performances and a charming, funny story. Definitely recommended.
Reviewer: David Chadderton